David Millar, Charly Wegelius and Rod Ellingworth at London Sports Writing Festival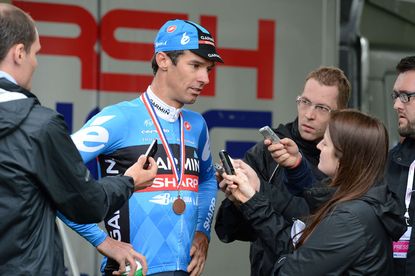 The inaugural London Sports Writing Festival culminates on Sunday (October 20) with a day focussed heavily on professional cycling. Speakers include current professional David Millar, former professional and Garmin-Sharp directeur sportif Charly Wegelius and Great Britain/Sky coach Rod Ellingworth.
The four-day festival takes place at Lord's Cricket Ground, St John's Wood, London, from Thursday October 17 and is a celebration of great British sports writing, featuring sessions with many of the country's leading writers and sports personalities.
Sunday's programme kicks off at 12.15pm, and the cycling-themed sessions run as follows:
12.15-1.15pm: THE LAND OF SECOND CHANCES: The impossible rise of Rwanda's cycling team
Tim Lewis' book charts the truly incredible story of the Rwandan cycling team as they overcame impossible odds to inspire a nation. Tim will talk about some of the people behind the team's success - from Adrien Niyonshuti, a member of the Rwandan cycling team who was just seven years old when he lost his family in the 1994 genocide that tore Rwanda apart.
3.00-4.00pm: ON THE ROAD BIKE: The Search for a Nation's Cycling Soul
Ned Boulting and Richard Moore consider how Britain became so obsessed with cycling. From the velodrome at Herne Hill to the Tour of Britain at Stoke-on-Trent via Bradley Wiggins, Chris Boardman, David Millar (and David's mum), Ken Livingstone, both Tommy Godwins, Gary Kemp (yes, him from Spandau Ballet) and many, many more. A lively look at the austere, nutty soul of British cycling.
4.30-5.30pm: DOMESTIQUE: Life in the Peloton
Not all professional cyclists live the life of a glamorous superstar. Join Charly Wegelius ('Domestique: The Real-Life Ups and Downs of a Tour Pro') and Rob Hayles ('Easy Rider: My Life on a Bike') as they discuss the harsh reality of what being a professional cyclist really entails with Sky's Orla Chennaoui.
6.00-7.00pm: THE CYCLING ANTHOLOGY PRESENTS...
This is a golden age of cycling writing and the Cycling Anthology showcases the finest talents. Editors Lionel Birnie and Ellis Bacon are joined by top writers Daniel Friebe, and Jeremy Whittle to discuss some of the stories that have dominated this year.
7.30-8.30pm: PROJECT RAINBOW
The thought of a British World Cycling Champion was deemed for many years unthinkable. Then Rod Ellingworth came up with a four-year plan. It was called Project Rainbow and the idea was to help Mark Cavendish become World Champion. It worked. Ellingworth's recently published book of the same name has received widespread praise. This session will be hosted his co-writer William Fotheringham as he welcomes Rod Ellingworth and Garmin's David Millar to the closing event of this year's festival.
Tickets cost £10 per session and are available from the London Sports Writing Festival website.
Books will be on sale during the event, with the opportunity to have them signed by the author.
Thank you for reading 20 articles this month* Join now for unlimited access
Enjoy your first month for just £1 / $1 / €1
*Read 5 free articles per month without a subscription
Join now for unlimited access
Try first month for just £1 / $1 / €1