Dempster wins Tour Series opener as Rapha Condor Sharp take control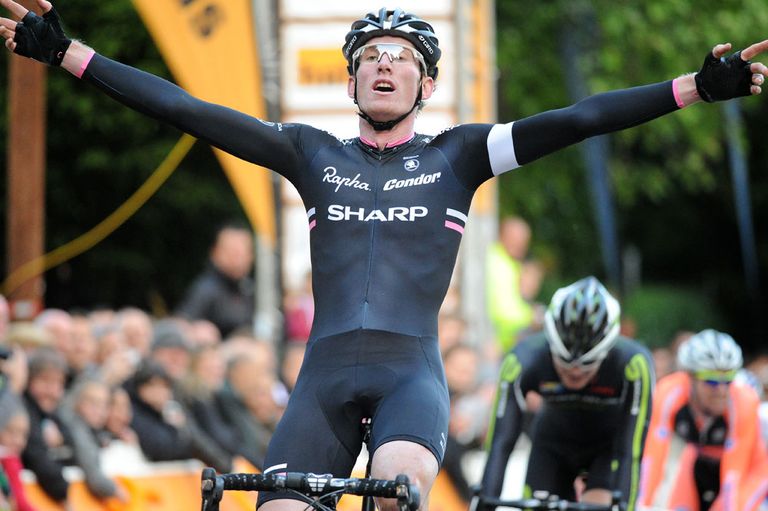 Tour Series 2011 round one photo gallery by Andy Jones>>
Zak Dempster gave his Rapha Condor Sharp team the perfect start to the 2011 Halfords Tour Series in Durham on Tuesday night.
Dempster took the win from Ian Bibby (Motorpoint) with 2011 Lincoln Grand Prix winner Scott Thwaites (Endura Racing) in third.
Dempster's team-mate Kristian House had played an active role in the night's racing, and scooped the Boardman Bikes sprint prize.
Rapha Condor Sharp take the lead in the team competition ahead of Endura Racing by a single point.
Dempster adds his win to an impressive 2011 palmares that includes victories in the Tour of the Dengie Marshes, East Midlands CiCLE Classic and Tour Doon Hame.
The next round of the 2011 Halfords Tour Series takes place on Thursday, May 26, in Aberystwyth, Wales.
Highlights of the Durham Tour Series round will be shown on British digital channel ITV4 at 8pm on Wednesday May 25. The show will be repeated at 11am on Thursday May 26.
Tour Series: How it works
The Tour Series is a team competition, rather than for individual riders - so although one rider 'wins' each round it is actually the top three riders in each team that give the team their points for the round.
The team that has accrued the most points at the end of the eight-round series wins the series overall.
Results

Tour Series 2011, round one: Durham

1. Rapha Condor Sharp
2. Endura Racing
3. Team Raleigh
4. Motorpoint Pro Cycling
5. Team UK Youth
6. Twenty3c - Orbea
7. Wilier GoSelfDrive.com
8. CyclePremier.com - Metaltek
9. Sigma Sport - Specialized
10. Pendragon Le Col Colnago
Individual result

1. Zak Dempster (Rapha Condor Sharp)
2. Ian Bibby (Motorpoint)
3. Scott Thwaites (Endura Racing)
4. Jonny McEvoy (Motorpoint)
5. Liam Holohan (Raleigh)
6. Kristian House (Rapha Condor Sharp)
7. Marcel Six (Twenty3c-Orbea)
8. Ian Wilkinson (Endura Racing)
9. Evan Oliphant (Endura Racing)
10. Dave Clarke (Endura Racing)
Overall series standings

1. Rapha Condor Sharp 10pts
2. Endura Racing 9pts
3. Raleigh 8pts
4. Motorpoint 7pts
5. Team UK Youth 6pts
6. Twenty3c-Orbea 5pts
7. Wilier GoSelfDrive.com 4pts
8. CyclePremier.com-Metaltek 3pts
9. Sigma Sport-Specialized 2pts
10. Pendragon Le Col Colnago 1pt after round one
Hitting the cobbles with Durham Cathedral in the background
Ian Bibby on the front
Dave Clarke on the front
Zak Dempster takes the win for Rapha Condor Sharp
Rapha Condor Sharp are the first squad to wear the orange Tour Series leaders' jerseys
Related links
Tour Series 2011 round one photo gallery by Andy Jones
2011 Tour Series teams announced
Motorpoint seals 2010 Tour Series win
External link