Downing joins Wiggins, Thomas and Swift in Square Mile Challenge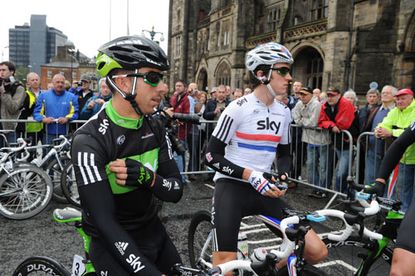 Team Sky are set to take on the City in the IG Markets Square Mile Challenge tomorrow (Friday, November 26) in Broadgate Circle, EC2. The event has been created to launch IG Markets' partnership with Team Sky for the 2011 season and has seen cycling fans sign up in their droves to compete against the Pro Tour stars over a virtual one-mile race.
With such a high demand for race places, Russell Downing has been drafted in to support Sky team mates Bradley Wiggins, Geraint Thomas and Ben Swift in back to back races across the day.
Each round of racing will feature one of the stars and seven hopeful contenders, all aiming to set the fastest time of the day and win a Pinarello FP1 bike. And to really throw the gauntlet down, if any contender manages to outpace a Team Sky pro, the fastest to do so will win an official Team Sky Pinarello Dogma bike.
The IG Markets Square Mile Challenge takes place between 10am and 3.30pm. Although the allotted race places are now full there will be limited stand-by opportunities to take part for those who come along on the day. And whether competing or simply cheering on brave colleagues, every visitor will have the chance to meet the Team Sky stars, take a look around an official team car and treat their bike to a free service from top mechanics.
Further information about the day can be found at www.igmarkets.co.uk/cycling.
Related links
Race against Wiggins, Thomas and Swift
Thank you for reading 20 articles this month* Join now for unlimited access
Enjoy your first month for just £1 / $1 / €1
*Read 5 free articles per month without a subscription
Join now for unlimited access
Try first month for just £1 / $1 / €1