Dowsett, Hayman and Knees at Road Cycling Show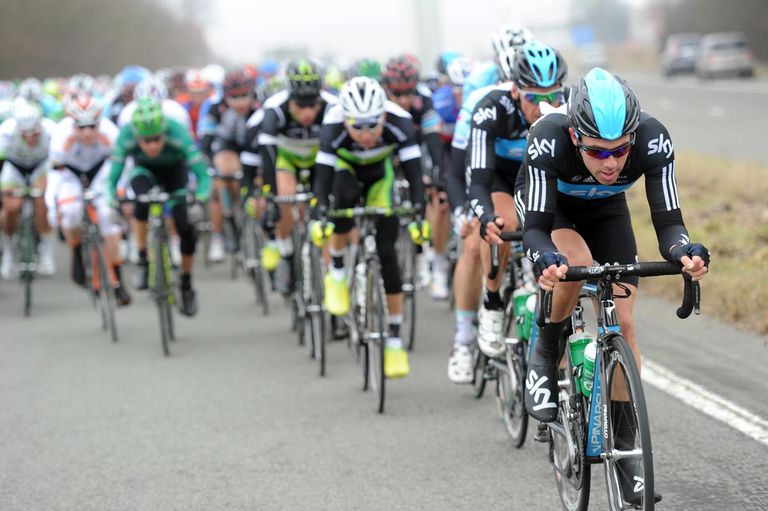 Team Sky professionals Alex Dowsett, Mathew Hayman and Christian Knees have been confirmed as appearing in the Gatorade G Series Pro Theatre at the Road Cycling Show at Sandown Park, Surrey, over April 21-22.
The Sky trio will be taking part in expert question and answer sessions in the G Series Pro Theatre throughout the weekend. They will be joined by Richard Davidson, former professor of Exercise Physiology and Nigel Mitchell Head of Nutrition at Team Sky and British Cycling, plus many more.
The theatre schedule - designed in partnership with Cycling Weekly, Cycle Sport and Cycling Active magazines, and co-hosted by Hannah Reynolds (Fitness Editor, Cycling Weekly and Cycling Fitness) - is aimed at providing athletes and coaches a unique mix of presentations, Q&A forums and experiential activities to learn from some the best cycling experts in the world.
Dowsett said: "It's awesome to be coming down to the Road Cycling Show to speak at their G Series Pro Theatre. It is always great to chat with people who share the love of the sport. Me and the guys are looking forward to meeting and chatting with everybody."
The 2012 Road Cycling Show features a mix of road bike exhibitors and retailers, giving visitors the chance to not only look at the latest road bikes and kit, but also try them and buy them.
Rob Hayles has also been confirmed for the show. The Olympic medallist and former world champion will be on the Law Shield stand.
In addition to the exhibits, seminars and test rides, the Road Cycling Show will also host the start and finish of the Sandown Cyclone cyclo-sportive. Three routes are on offer: 35.5 mile (57km) 'Fun' route, the 66-mile (106km) 'Standard' route and the 81-mile (130km) 'Epic' route.
Anyone entering the sportive gets automatic entry to the show.
For more information on the show and to purchase tickets, go to the Road Cycling Show website.
Alex Dowsett, Great Britain
Current British national time trial champion
Winner, 2011 Tour of Britain stage 8a time trial
Winner, 2011 Tour du Poitou Charentes; stage five
Mathew Hayman, Australia
2006 Commonwealth road race champion
Winner, 2011 Paris-Bourges
Winner, 2005 Sachsen Tour
Christian Knees, Germany
2010 German national road race champion
Winner, 2008 Bayern-Rundfahrt
Gatorade G Series Pro Theatre seminars at Road Cycling Show 2012 include:
Planning for Performance (under 30)
Planning for Performance (over 30)
Fuelling "Hydration and Nutrition" for performance with Team Sky, British Cycling and Gatorade
Fuelling the Injury debate - Physios vs Chiropracters vs alternative treatments (Reiki, etc)
Going faster British Cycling and Team Sky style
Training to power powerfully... How to get the most out of using power when training
Yoga for Cyclists developing core and flexibility - practical active yoga sessions with leading instructors used to working with athletes
Related links
Sandown Cyclone Sportive: Route details and entry information
New Road Cycling Show for 2012