Sep Kuss' home town of Durango gears up for homecoming celebration - and everyone's invited
The La Vuelta winner will be welcomed back to his hometown with a good old-fashioned American jubilee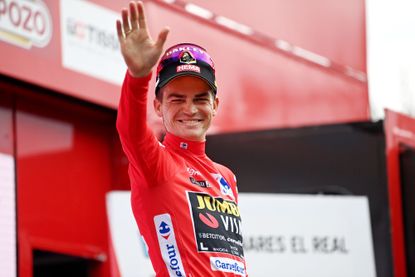 (Image credit: Getty Images)
Last month, Sepp Kuss (Team Jumbo-Visma) became the unexpected yet much-celebrated winner of La Vuleta a España and thereby the first American to win a Grand Tour since 2013.
While the 29-year-old lives in Andorra these days, his roots and humble beginnings lie in the small town of Durango, Colorado, which is set to welcome its hero home on October 19.
Kuss' first racing team, Durango Devo, is hosting a homecoming celebration for Kuss and all are invited.
The event will begin with a speech by Kuss at Durango's Buckley Park followed by a meet-and-greet for locals and fans. From there, a bike parade down will roll down Main Avenue and finishing back at the park. After the parade, fans can enjoy live music, food and beverages, autograph signings and Sepp Kuss merchandise sales.
Cycling is so intricately woven into Durango's culture that the town has dedicated the month of October to the sport and dubbed it "Spoketober." Kuss' return to the Centennial State couldn't come at a more appropriate time.
"Durango Devo is proud of all our alumni, and we're certainly proud of Sepp Kuss! He is a great example of what makes Durango Devo and the Durango cycling community special," says Levi Kurlander, executive director of Durango Devo. "We are honored to host the Vuelta a España champion and Tour de France stage winner and celebrate his achievements in his hometown."
Check out the full schedule of events and inclement weather plan below.
3:30 p.m.: Speeches and Q&A at Buckley
● 4:30 p.m.: Bike Parade
● 5:15 p.m.: Post Parade Celebration/Autographs/Live Music
● 7:00 p.m. :Buckley Park Closed
In case of bad weather, the event will take place at the La Plata Fairground Exhibit Hall, and the parade will take place on the Animas River Trail. Necessary updates on a possible venue change will be made the week of the event and posted to social media.
Also read:
Thank you for reading 20 articles this month* Join now for unlimited access
Enjoy your first month for just £1 / $1 / €1
*Read 5 free articles per month without a subscription
Join now for unlimited access
Try first month for just £1 / $1 / €1