EF Education-Nippo and Rapha reveal special edition 'Euphoria' kit for Giro d'Italia
This year's Giro switch-out kit that's designed not to clash with the maglia rosa doesn't feature any ducks... so far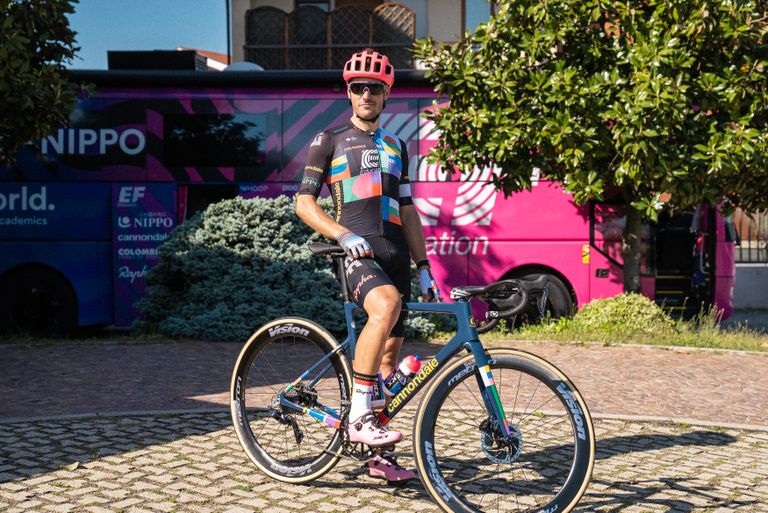 (Image credit: Rapha)
Rapha has created an 'away kit' to replace EF Education-Nippo's regular pink racewear at the Giro d'Italia. Trade teams' colours cannot clash with the famous maglia rosa, so the British brand has designed an ensemble that includes every colour but pink.
For the next three weeks, all eight of the team's riders will be racing in the 'Euphoria' collection, which is, according to Rapha, "a kaleidoscopic creation, designed to celebrate people from different backgrounds and nations coming together in pursuit of a common goal. From Italy to the world, look out for a splash of colour at the first Grand Tour of 2021."
EF's Giro switch-out kit became one of the talking points of last year's race. Rapha collaborated with Palace skateboards and came up with a truly psychedelic scheme featuring a duck… which landed them a CHF 4,500 ($5,000) fine. It wasn't the duck itself that the governing body objected to – the duck jersey was different from the one submitted to the UCI during the team presentation and was, therefore, non-compliant.
No pink, no problem, say the team – and the pointed inclusion of every colour but pink in this year's Euphoria scheme looks like a little bit of UCI-baiting, set in motion at the beginning of this season by a new kit that was described as "the world's most compliant."
They say there's no pink, but if you look closely at the front of the jersey there's a semi-circular splodge of pink that vaguely resembles a stuck-out tongue...
The Rapha Euphoria collection will be available to buy from the end of May.
Simon Smythe is Cycling Weekly's senior tech writer and has been in various roles at CW since 2003. His first job was as a sub editor on the magazine following an MA in online journalism (yes, it was just after the dot-com bubble burst).
In his cycling career Simon has mostly focused on time trialling with a national medal, a few open wins and his club's 30-mile record in his palmares. These days he spends a bit more time testing road bikes, or on a tandem doing the school run with his younger son.
What's in the stable? There's a Colnago Master Olympic, a Hotta TT700, an ex-Castorama lo-pro that was ridden in the 1993 Tour de France, a Pinarello Montello, an Independent Fabrication Club Racer, a Shorter fixed winter bike and a renovated Roberts with a modern Campag groupset.
And the vital statistics:
Age: 52
Height: 178cm
Weight: 69kg