Rapha and EF Education-Nippo unveil 'world's most compliant' 2021 kit
Spoiler: There aren't ducks anymore…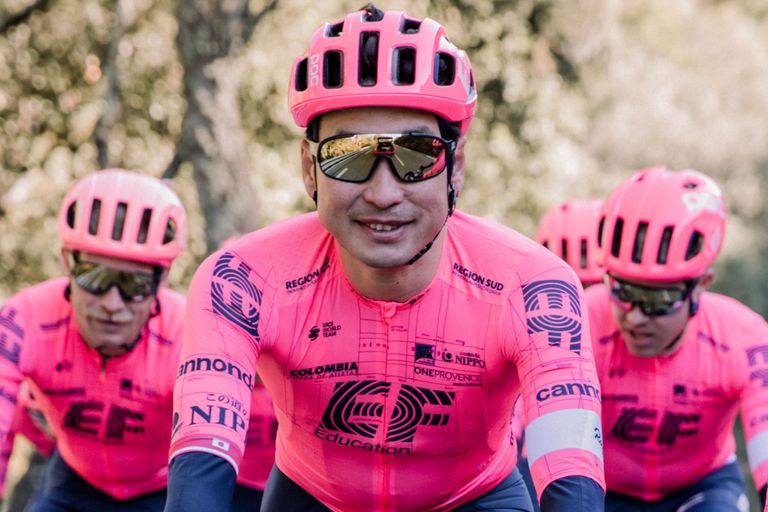 Having built a reputation for being disruptive – most recently bringing ducks to the pro peloton on UCI non-compliant kit at the 2020 Giro d'Italia – the question "what next?" was always going to be asked. When breaking the rules becomes anticipated, what could Rapha and EF Education-Nippo do to remain subversive?
Admitting that they were "getting into hot water last season", the answer, it seems, is to create "the world's most compliant cycling kit", with this year's design centring around the UCI's regulations. Rapha and EF Education-Nippo haven't merely followed the rules, but have also shown their working, leaving no doubt that this kit follows every edict to the letter.
For the correct positioning and spacing of sponsors logos, Rapha and EF Education-Nippo's designers have "left their meticulous measurements marked up while subtle annotations are a nod to their creative approach to compliance."
Naturally, the finer details won't be visible from aerial shots in races, but Rapha and EF Education-Nippo say that "they will serve as a reminder of our team's desire to move the dial and change the sport."
Of course, switching back to that now iconic hi-vis pink will mean their rides continue to stand out in the crowed peloton.
The team's first race of the year is due to be the Grand Prix Cycliste la Marseillaise on Sunday, January 31st, as part of the seven World Tour teams and two Continental squads that will be taking on the rolling 171km parcours.
The new EF Education-Nippo kit launches at rapha.cc in April 2021. For more information on the "world's most compliant kit" click here.
Thank you for reading 5 articles this month* Join now for unlimited access
Enjoy your first month for just £1 / $1 / €1
*Read 5 free articles per month without a subscription
Join now for unlimited access
Try first month for just £1 / $1 / €1
Starting off riding mountain bikes on the South Downs way, he soon made the switch the road cycling. Now, he's come full circle and is back out on the trails, although the flat bars have been swapped for the curly ones of a gravel bike.
Always looking for the next challenge, he's Everested in under 12 hours and ridden the South Downs Double in sub 20. Although dabbling in racing off-road, on-road and virtually, to date his only significant achievement has been winning the National Single-Speed Cross-Country Mountain Bike Championships in 2019.
Height: 177cm
Weight: 67–69kg