Elinor Barker claims junior world time trial title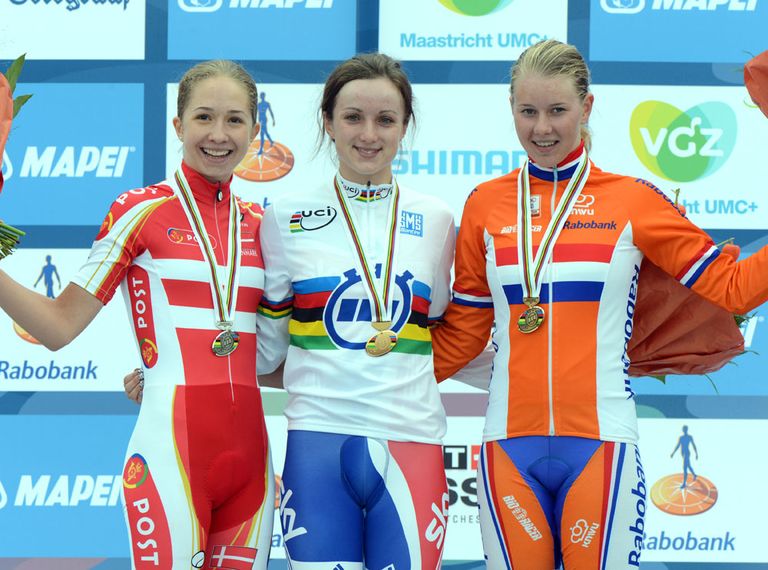 Great Britain's Elinor Barker has won the gold medal in the junior women's time trial at the world road championships in Limburg, Netherlands this morning.
The 18 year old went one better than her silver medal in Copenhagen last year, clocking a time of 22 minutes 26 seconds for the undulating 15.6 km course.
Denmark's Cecilie Ludwig (Denmark) took the silver medal at 35 secs with Demi De Jong (Netherlands) finishing in third place over a minute back.
"I'm absolutely ecstatic about today," said Barker, who was overwhelmed with emotion as her victory sunk in. "Usually I struggle on the technical side, things like corners and descents, but I've really improved on that lately and it just went really well."
After Ludwig's impressive time had stood for most of the day, Barker was the first rider to come close to the Dane, up round 13 seconds at both the first and second time splits. As she crossed the finish line she proved she'd timed her effort to perfection, although she didnt realise straight away.
"I hadn't a clue during the race!" she said. "They were shouting at me from the car...really beeping on the horn and shouting on the climbs that 'this is where you can make up the time, this is your strength,' that kind of thing."
"I didn't have any information on time gaps, I didn't really want that. I think I found out when I was sat on the floor just after the finish and one of the swannies [soigneurs] was telling me I'd won. It didn't hit me for a long time."
Earlier in the year, the Welsh rider won gold in the individual and team pursuits at the European junior track championships and thee medals at the junior track worlds in Invercargill, New Zealand.
Results
Junior women time trial, 15.6km

1. Elinor Barker (Great Britain) in 22-26.29
2. Cecilie Ludwig (Denmark) at 35.87 secs
3. Demi De Jong (Netherlands) at 1-03.13
4. Emily Roper (Australia) at 1-08.18
5. Ramona Forchini (Switzerland) at 1-10.42
6. Eva Mottet (France) at 1-11.59
7. Christina Siggaard (Denmark) at 1-13.26
8. Coprinna Lechner (Germany) at 1-13.35
9. Nicky Zijlaard (Netherlands) at 1-14.84
10. Lourdes Oyarbide (Spain) at 1-15.26
Related links
Hard work pays off for Barker at Worlds
Road World Championships 2012: Coverage index