Endura edge closer to first Tour Series crown in Woking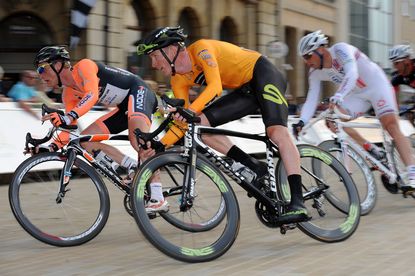 Zak Dempster's second individual win of this year's Tour Series in Woking moved Endura Racing one step closer to their first ever overall title.
The Australian sprinted to take the personal glory, and with team-mates Ian Bibby and Jonny McEvoy following close behind in fourth and fifth, the all-conquering team took their seven round victory in ten races.
They lead 2011 champions Rapha-Condor-Sharp by 17 points with a maximum of 20 on offer in Stoke-on-Trent on Thursday, so it's likely that they will secure the title in tomorrow's afternoon team time trial, which precedes the evening criterium.
However, the battle for second place looks set to go down to the wire, as Raleigh-GAC finished second on the night to move level on points with UK Youth in the standings. Both sit on 76 points, while Rapha - who are currently the best of the best - have 77. Torquay winners Node4-Giordana are slightly further back in fifth, but could have a say in who finishes immediately behind Endura.
Round 10 of this year's series was a frantic affair, as Endura continuously launched riders up the road. Dempster, Scott Thwaites and Jonny McEvoy all tried in vain to win alone, although the ever-combative Kristian House, Graham Briggs and Mike Northey also tried to get in on the action for their rivals.
The peloton were together going into the final lap, which allowed Endura to show their dominance in the bunch sprint. They have to wait to Stoke to confirm the overall victory, but it will require a massive capitulation on their behalf for someone else to win the series. One jersey that was sewn up in Woking was that of the Boardman Bikes sprints competition, which has been comfortably won by Bernie Sulzberger (Raleigh-GAC).
In the preceding women's Johnson Health Tech Grand Prix round, junior world road race champion Lucy Garner took the spoils, outsprinting Ruth Winder (Team VanderKitten) and Penny Rowson (Matrix Fitness-Prendas). Rowson's team-mate Annie Simpson leads ahead of Thursday's final round.
Results

Halfords Tour Series 2012, round 10: Woking

1. Endura Racing 10pts
2. Raleigh - GAC 9pts
3. UK Youth 8pts
4. Rapha-Condor-Sharp 7pts
5. Node4-Giordana 6pts
6. Metaltek-Scott 5pts
7. CyclePremier-Kovert 4pts
8. IG-Sigma Sport 3pts
9. Hope Factory Racing 2pts
10. Herbalife-LeisureLakesBikes 1pt
Individual result

1. Zak Dempster (Endura Racing)
2. Yanto Barker (UK Youth)
3. Graham Briggs (Raleigh - GAC)
4. Ian Bibby (Endura Racing)
5. Jonny McEvoy (Endura Racing)
6. Dean Downing (Rapha-Condor-Sharp)
7. Tobyn Horton (Raleigh - GAC)
8. Marcel Six (Metaltek-Scott)
9. Marcin Bialoblocki (Node4-Giordana Racing)
10. Niklas Gustavsson (UK Youth)
Overall team standings after round 10

1. Endura Racing 94pts
2. Rapha-Condor-Sharp 77pts
3. UK Youth 76pts
4. Raleigh-GAC 76pts
5. Node4-Giordana Racing 71pts
6. Cycle Premier-Kovert 45pts
7. IG-Sigma Sport 36pts
8. Metaltek-Scott 33pts
9. Herbalife-LeisureLakesBikes 22pts
10. Hope Factory Racing 19pts
Boardman Bikes Sprints round winner

1. Zak Dempster (Endura Racing)
Boardman Bikes Sprints standings after round 10

1. Bernard Sulzberger (Raleigh - GAC) 93pts
2. Marcel Six (Metaltek Scott) 56pts
3. Kristian House (Rapha-Condor-Sharp) 38pts
Johnson Health Tech Grand Prix Series, round four: Woking

1. Lucy Garner (Node4 - Giordana Racing)
2. Ruth Winder (Team VanderKitten)
3. Penny Rowson (Matrix Fitness-Prendas)
4. Amy Roberts (Scott-Contessa-Epic)
5. Eileen Roe (Team Ibis Cycles)
6. Hannah Walker (Matrix Fitness-Prendas)
7. Annie Simpson (Matrix Fitness-Prendas)
8. Helen Wyman (Kona Factory Racing)
9. Corrine Hall (Node4-Giordana Racing)
10. Louise Mahe (Mule Bar Girls)
Round Four Team Winners: Matrix Fitness - Prendas
Overall standings after round four

1. Annie Simpson (Matrix Fitness-Prendas) 68pts
2. Corrine Hall (Node4-Giordana Racing) 56pts
3. Helen Wyman (Kona Factory Racing) 52pts
4. Penny Rowson (Matrix Fitness-Prendas) 45pts
5. Laura Massey (Vivelo Bikes/Inverse /Cyclaim) 38pts
6. Louise Mahe (Mule Bar Girls) 38pts
7. Harriet Owen (Node4-Giordana Racing) 37pts
8. Hannah Barnes (Team Ibis Cycles) 37pts
9. Jo Tindley (VC St Raphael) 36pts
10. Hannah Walker (Matrix Fitness-Prendas) 29pts
Overall Team Standings, post-Round Four

1. Matrix Fitness-Prendas 155pts
2. Node4-Giordana Racing 145pts
3. VC St Raphael 76pts
4. Mule Bar Girls 73pts
5. WyndyMilla UK Youth 7pts
Sprints winner Woking

1. Ruth Winder (Team VanderKitten)
Sprints standings, post Round Woking

1. Annie Simpson (Matrix Fitness-Prendas) 24pts
2. Jo Tindley (VC St Raphael) 16pts
3. Hannah Walker (Matrix Fitness-Prendas) 13pts
Related links
Halfords Tour Series 2012: Cycling Weekly's coverage index
Thank you for reading 20 articles this month* Join now for unlimited access
Enjoy your first month for just £1 / $1 / €1
*Read 5 free articles per month without a subscription
Join now for unlimited access
Try first month for just £1 / $1 / €1