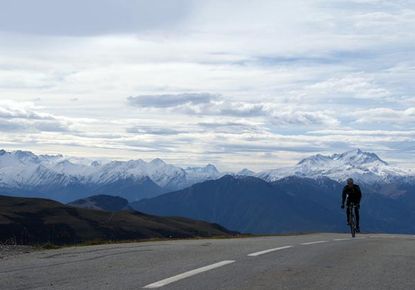 Following this year's move by ASO, the organiser of the Etape du Tour, to bring the masses not one but two opportunities to ride a prestigious stage of the Tour de France, it would appear that come July 2012 the stakes will have once again risen for every aspiring cyclist looking to claim a piece of Etape history for themselves.
Sometimes on paper a route can be deceptive, cruelly masking the real telltale woes of the road ahead. It doesn't take a genius, or even a split-second glance, to work out pretty quickly that this will not be the case next year, with both stages featuring a frenzy of hors catégorie ascents and little time for an apéritif to aid digestion before the next course.
Set in the heart of the Alps, Act I is a four-climb brute, two of which top out at over 2,000 metres above sea level. At 140km in length, and with absolutely no flatlands, it's certainly one for the climbers.
So what about Act II? One for the sprinters? Er, no! As you take to the start line in Pau it'll be a journey described by five of the best climbs in the Pyrenees, featuring the legendary Col du Tourmalet, of course, and rolls out at just a shade under 200km. Needless to say, neither are for the faint-hearted.
Etape du Tour 2012
Click on the links below to go to the relevant article
Act I: July 8: Albertville to La Toussuire-Les Sybelles (140km)>>
Act II: July 14: Pau to Bagnères de Luchon (197km)>>
The climbs ranked
Ridden individually the order of these climbs may differ somewhat from their severity during a full stage, as was the case when they were tackled here. It's important to note that none of them are 'easy' - just in the context of where they are in the stage or how they fare against each other they may feel less hard in comparison. Here's our ranking from killer to vanilla.
1 La Toussuire
On a hot day you're going to melt, on a cold day you'll freeze. It really is that simple. There's just nowhere to hide on the unforgiving slopes to La Toussuire. Coming right at the end of a stage with well over 4,000m of elevation, and absolutely no flat, the final 19km of Act I will take a serious amount of physical and mental strength to crack.
2 Col de Peyresourde
In a similar fashion to La Toussuire, the Col de Peyresourde will feel significantly harder than its 10 kilometres at 6.6 per cent average gradient may suggest. Once again the climb is open, meaning there's no chance to escape the elements and after 172km, with a deceptively tiring number of valley drags, there may be one or two swear words on its slopes come July. Best to learn them in French now so you look super-pro!
3 Col de la Croix de Fer
A combination of its 24-kilometre length, daunting 2,067-metre height and defiant, ever-changing gradient mean the Croix de Fer is a tough climb to predict, cruelly allowing those that take on the challenge to think they have the upper hand before ramping up the gradient and twisting the hurt screws. Make it to the top and you are blessed with the most spectacular and rewarding mountain vistas for your hard-fought efforts.
4 Col du Tourmalet
Often shrouded in thick mist, even in the height of summer, the 'Terrible' mountain as it's sometimes known is a true monument of the Tour de France, and with good reason. From the west you have an unforgiving drag from Argelès-Gazost before you even set foot on its 19km incline. The fact that it comes after the Col d'Aubisque and Col du Soulor will make the view from its 2,115m peak all the more pleasurable.
5 Col de la Madeleine
There's something really enchanting about the Madeleine. Its narrow, tree-lined road momentarily takes your attention away from the fact it's nearly 30km long. Don't lose focus: just when you think the road is never-ending it presents its steepest sections at over 10 per cent gradient. Not for the faint-hearted, literally, and with little time for a thorough warm-up, try not to go into cardiac arrest (not before the first feed at least!)
Col de la Croix de Fer
6 Col d'Aubisque
Without question one of the great legends of the Tour, and a climb that every rider needs in their palmarès. The Aubisque comes after 36 kilometres (a slightly better warm up period than the Madeleine). Make the most of the early part before Eaux-Bonnes - from here on in it could very well become a grind even if it is the first ascent of the day.
7 Col d'Aspin
By now the distance will really start to be taking its toll on weary legs. Temperatures could be high, and although on its own the Aspin is relatively unassuming at 12.8km in length and with a 5 per cent average gradient, it's the fact that it comes straight after the Aubisque, Soulor and Tourmalet that adds to its stature on this stage. Oh, and the fact that the hardest part comes at the end.
8 Col du Mollard
You'll hit the Mollard after the seriously challenging Madeleine-Croix de Fer double, having all speed scrubbed from the descent as you turn sharp right and are immediately faced with a 10 per cent gradient. If I had a pound for every rider that feels the lactic burn come on early into this climb, then I'd most likely have a very expensive new bike on order as I collect my gold sovereigns by the top.
9 Col du Soulor
In this direction, and with everything else ahead, the Soulor really is just a blip in the profile. It's important that you know that it's there but with the Tourmalet, Aspin and Peyresourde still to tick off, if you're struggling here then it's going to be a very long day in the saddle indeed.
The logistics
With both stages offering a truly beautiful, challenging and rewarding experience for the seasoned or first-time Etape rider, it's anticipated that each will be very popular.
Both acts have a 10,000 rider limit, with online registration opening today (November 17). Cost is €75 euros for the first 3,000 entries on each stage and €95 euros for the 3,000 thereafter. If you're interested in the 'entry only' system then visit www.letapedutour.com now to register your place.
The remaining 4,000 entries are reserved as part of the package offering that can be booked directly through any of their official partners (such as LaFuga.cc or Sports Tours International). Each offer a different level of service depending on budget and personal preference so make sure you check with each operator to ensure your booking meets your needs.
Check local airlines for flights to Geneva or Grenoble (Act I) and Pau or Toulouse (Act II). A personal favourite where possible is BA.com as they allow your bike to travel for free, provided you only have one piece of checked luggage and it does not exceed your allowance. Perfect for short trips like l'Etape.
Albertville has a limited number of restaurants, meaning if your hotel doesn't have its own then it will be worth trying to book in advance.
For French cuisine, at an affordable price, try Le Bistrot Gourmand. You'll be forgiven for pushing the boat out in Pau if you fancy something a little more special - after all, you have a big ride to feed up for.
Au Fin Gourmet is located at the foot of the Boulevard des Pyrénées with dining rooms under glass and a fresh new menu each month. Not cheap, but then you are on holiday. Go on, treat yourself!
Etape du Tour 2012
Click on the links below to go to the relevant article
Act I: Albertville to La Toussuire-Les Sybelles (140km)>>
Act II: Pau to Bagnères de Luchon (197km)>>
Related links
Cycling Weekly's guide to cyclo-sportives
Tour de France 2012 route details
Thank you for reading 20 articles this month* Join now for unlimited access
Enjoy your first month for just £1 / $1 / €1
*Read 5 free articles per month without a subscription
Join now for unlimited access
Try first month for just £1 / $1 / €1