Fabian Cancellara looking forward to time off after Paris-Roubaix win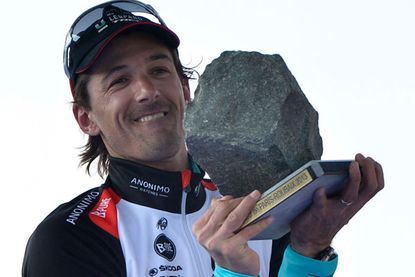 Fabian Cancellara (RadioShack-Leopard) established himself firmly as a modern-day Classics czar alongside Tom Boonen (Omega Pharma-QuickStep). His win in yesterday's Paris-Roubaix brings his cobbled race victory count up to eight... and helps him furnish his home.
Cancellara won Roubaix three times, adding to two Tour of Flanders and three E3 Harelbeke victories. Boonen has four, three and five, plus three Ghent-Wevelgem titles. Their score stands at eight to 15 in cobbled classics.
"He's born for these races, I'm born for them. Who's better? Tom's a better sprinter; maybe I'm a better rouleur. We are just both strong in different ways," Cancellara told a packed pressroom yesterday in Roubaix.
"It's good for cycling, it gives a battle. If we were both strong on the same level, it'd be bad, but we are different. I don't like to say who's better, we are showing that we are the two great riders so far in the last few years. It's up to you to have your opinion on who is the better one."
Fans have been denied a head-to-head match in the last two years. Last year, Cancellara crashed and snapped his collarbone in Flanders. Boonen fractured a rib this year.
From cobbles to sauna
The 32-year-old Swiss remained vague on his upcoming plans. He told a close journalist earlier this year he would skip the Tour de France, where he won the prologue and wore the yellow jersey last year. He later denied the news, but questions remain.
"I'm looking forward to enjoying this win," Cancellara explained. "There are question marks on what will be next. We will leave it up in the air."
Cancellara heads back to furnish his home, more specifically, the sauna room that his wife designed. The new cobble stone trophy, he said, will fit perfectly.
"The third stone will go in the missing place," Cancellara continued. "We built a sauna room last year with three windows. There were two stones there, but something was missing. The third will now go in the remaining window.
"It was my wife that created that place. It's actually quite nice, you can sit in the sauna and relax and look outside. The third stone needs time, it needs hours and days to realise [it's meaning]. The first two came in a great way, but the third stone came through a different level of riding."
Cancellara said yesterday that he went to his outer-limits to beat rivals, including Sep Vanmarcke (Blanco) in second.
The hot topic, however, is would he do if he wins a fourth Paris-Roubaix trophy?
"I don't know. Maybe we'll have to build a new sauna place, I don't know," he explained. "I'm not thinking on the fourth stone. For the fourth stone, it's too far away."
Related links
Fabian Cancellara wins Paris-Roubaix again
Thank you for reading 20 articles this month* Join now for unlimited access
Enjoy your first month for just £1 / $1 / €1
*Read 5 free articles per month without a subscription
Join now for unlimited access
Try first month for just £1 / $1 / €1