Fabian Cancellara to skip Giro d'Italia and Tour de France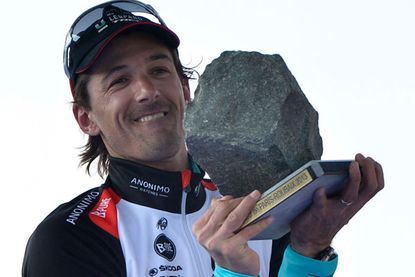 After winning the prologue and yellow jersey last year, Fabian Cancellara (RadioShack-Leopard) will to skip the Tour de France. He will miss the Giro d'Italia, too. Instead, the recent Tour of Flanders and Paris-Roubaix victor will aim for the World Championship road title.
"It's 100 per cent certain that he will ride the Vuelta a España to prepare for the Worlds in Florence," the team's general manager, Luca Guercilena told Belgium's Het Nieuwsblad newspaper yesterday.
Cancellara has four world time trial titles to his name. He came closest to winning the road title when racing at home in Mendrisio in 2009.
Boonen back on bike after Flanders
Tom Boonen (Omega Pharma-QuickStep) returns riding after crashing on his hip and fracturing a rib in the Tour of Flanders two and a half weeks ago.
"Holiday feels good!" he wrote on Twitter. "Hope my hip won't cause me any problems, still hurts! Saturday back on the bike."
UCI confirms Armstrong's Tour positives
Cycling's governing body, the UCI confirmed yesterday that Lance Armstrong tested positive in the 1999 Tour de France. It responded to a leaked document that showed he not only failed a corticosteroids test once, but four times.
"It should be stressed that this case was handled knowing only the facts which were apparent at that time," read a press release. "For example, the UCI did not know that the medical certificate handed over ... in July 1999 had been post-dated. Armstrong only admitted this during his interview with Oprah Winfrey, which was broadcast on 17 January 2013."
After testing positive for the steroid on July 4, Armstrong's US Postal Service team produced a post-dated Therapeutic use exemption (TUE). They claimed the cream was for a saddle sore.
Het Nieuwsblad leaked a UCI memo on Tuesday that Armstrong also failed anti-doping tests on July 14, 15 and 21. Each time, his team used a TUE to explain the doping positive.
Jalabert quits French national coach job
Laurent Jalabert quit as French coach on Tuesday due to differences of opinion with the national federation.
According to French newspaper L'Equipe, problems came to a head during the London Olympics.
The federation required that Jalabert include Mickaël Bourgain in his five-man road team so that he could also compete on the track. Jalabert said, "At that point, I knew my time as national coach was finished."
Jalabert took over four years ago from Frédéric Moncassin and left without winning a medal. Last month, a car hit the former winner of the Vuelta a España and Milan-San Remo while training, fracturing his leg, arm and hand.
Lampre-Mantova doping case continues
The Mantova doping case involving team Lampre restarted yesterday. The judge granted Italian Olympic Committee (CONI) to continue as a civil party and scheduled the next hearing for April 30.
Investigators found evidence that Lampre's top brass, including General Manager Giuseppe Saronni, knew of and encouraged doping in 2008 and 2009. They targeted Guido Nigrelli's pharmacy in Mantova, where Saronni's riders, including Alessandro Ballan, allegedly visited for EPO and human growth hormones.
Thank you for reading 20 articles this month* Join now for unlimited access
Enjoy your first month for just £1 / $1 / €1
*Read 5 free articles per month without a subscription
Join now for unlimited access
Try first month for just £1 / $1 / €1