Faithful to Old Faithful: Obree's bike recreated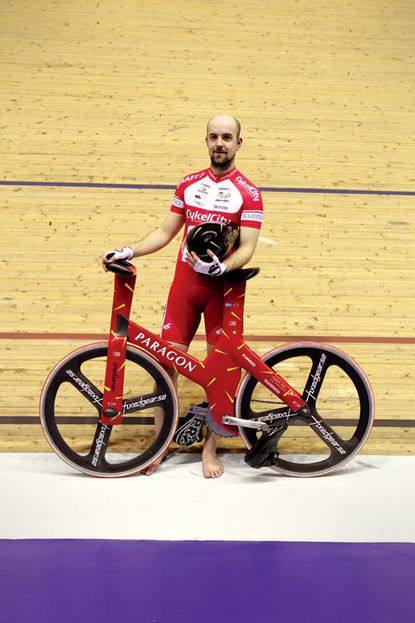 You would have thought that UCI technical regulations would have ruled out the possibility of Graeme Obree's old Hour-beating riding crouch ever making an appearance on a cycling track again.
After claiming the World Hour record, World Championship pursuit and national time trial and track success with it in the early 1990s, the unconventional riding stance was banned by the sport's authorities in 1994 and Obree moved on to invent the - now also banned - superman position.
Swedish fanaticism
For most people the position was too ungainly anyway.
But thanks to a Swedish fanatic who has created his own version of Obree's 'Old Faithful' bike, the position was again given an outing at the Manchester velodrome earlier this month when its designer showed his replica to the maverick Scotsman who inspired it.
Christopher Robin (yes, he is named after the Winnie the Pooh character) decided to build his own version of Obree's home made bike simply because he wanted to ride in the same position.
"My dad showed me a picture of Obree when I was 14," the 31 year old from Stockholm explained to CW. "I just wanted to try it. So I had to build the bike."
Although he'd not built a bike before, as a freelance product designer of toys and furniture for companies such as Ikea, Robin had enough know-how to set about his task.
"At the beginning I just wanted to see if I could get a chainring or something signed soI got in contact with Obree's manager," explained Robin. "But he [Obree] was so interested in the project, they asked me if I was able to come over."
Initially Robin couldn't afford the flights to the UK. But with the support of over 200 members of an online forum where he'd posted pictures of his bike, he was quickly able to find the funds.
"It only took five hours to raise the money," he said.
In Manchester, Robin spent five hours with Obree. He also ended up discussing his bike with the likes of Sir Chris Hoy and British sprint coach Jan Van Eijden who happened to be at the track for a training session.
"The whole visit was everything I expected and more," Robin said. "That's been the thing about this project. It's been a real amazing journey because I just wanted to build a cool looking bike and ride in the Obree position. But I ended up in Manchester meeting him and Chris Hoy.
"Everyone has been so openhearted and so interested in my bike. Meeting Graeme was fantastic. There was lots of bike talk with him, then of course all his anecdotes. And Chris Hoy is such a nice guy - so humble.
"The track was booked all day long by the national team," he added. "But whenever they had a break from training they invited me up to have a ride."
Robin had previously tested his bike on Sweden's only indoor velodrome, a steeply banked, 196m-long track in the town of Falun.
"The bankings are like a wall of death and I wanted to try it out on a proper velodrome," Robin said.
How was it in Manchester? "It was fantastic," he said. "It worked beautifully and felt fast."
Did he do any timed efforts? "Not this time," he replied, although Robin added that the Manchester outing won't be the last he'll be making on his Obree tribute bike.
Next, he plans to train on his machine and then ride it at the Swedish National Championships.
"I'll be riding in my own class, just for fun," he acknowledged.
"I recently looked at the rules and there was one paragraph that was OK. I've got two wheels the same size, but everything else is UCI-illegal!"
UPDATE NOT REPLICATE: THE BIKE
The design brief Christopher Robin gave himself was not so much to make a replica of Obree's old faithful but to produce an up-to-date version.
So the design mimicked the mono fork, shoes fixed to the cranks and Specialized tri-spokes of Obree's 1993 World Hour-record-breaking original, but also had an aerodynamic frame constructed from balsa wood and coated in carbon-fibre.
Robin explains: "I'm really fond of the '90s experimental bikes - the GT superbikes, the Looks and everything - so I wanted to apply that to the Obree bike."
Obree's original famously used bearings from a washing machine in the bottom bracket. Robin used an off-the-shelf Shimano Tiagra unit, sawn-off to fit the shell's narrow 40mm width.
"More or less everything on the bike except the chainring bolts are customised," he said. "You can't really buy anything on it from the shop."
Robin and Obree both agreed bikes should have names - that it gives them more character.
Robin's bike is emblazoned with the word Paragon. The dictionary defines this as a model of excellence. Robin's reason for naming his bike, though, is more prosaic: "While I was building it I was listening to a reggae band called Paragon."
Sir Chris Hoy and Graeme Obree pose with the bike
OBREE HONOURED
Graeme Obree said it is an honour to have a fan as fanatical as Christopher Robin.
"It's been 18 years since I first designed and rode that bike, so I should really be a has-been by now.
"But it's a real accolade to see someone go to such extremes to not only design and plan a replica, but to actually build it so brilliantly.
"He spent nine months building it so he clearly knows about what materials to use, what components to use and how to build a bike that you can use."
Unfortunately the Scot wasn't able to test Robin's masterpiece out, owing to the attention to detail that Obree is famed for.
"Chris had gone into such detail that he also bolted [cemented] his shoes to the bike, which is something I did to avoid pulling my foot out during an event."
With Robin having decidedly small size 39 (UK size six) feet, Obree wouldn't fit in them.
The former Hour record holder admitted he likes the beauty of cyclists building their own bikes.
"There's a myth that to build a lightweight bike you have to spend thousands of pounds. But you don't. You need a 'go for it attitude', and Chris has that. If you get stuck in you can build a bike in your kitchen if you wanted to."
Obree also said he understands why the UCI has introduced new rules for 2011, which effectively bans the use of equipment that isn't mass marketed.
"Sport is all about finding a cutting edge. It's obsessive in the way it always wants to cut to the minimum to take things to the maximum.
"But the UCI has to make the sport inclusive for everyone. If European riders turned up at the Olympics riding the most expensive and lightest equipment, cycling just simply wouldn't be credible over the world. We can't have an elitist sport."
Graeme Obree in action on the original bike
The original version of this article appeared in Cycling Weekly magazine March 17 2011
Thank you for reading 10 articles this month* Join now for unlimited access
Enjoy your first month for just £1 / $1 / €1
*Read 5 free articles per month without a subscription
Join now for unlimited access
Try first month for just £1 / $1 / €1
Founded in 1891, Cycling Weekly and its team of expert journalists brings cyclists in-depth reviews, extensive coverage of both professional and domestic racing, as well as fitness advice and 'brew a cuppa and put your feet up' features. Cycling Weekly serves its audience across a range of platforms, from good old-fashioned print to online journalism, and video.