Fleche Wallonne winner Daniel Moreno: "couldn't stand the pressure"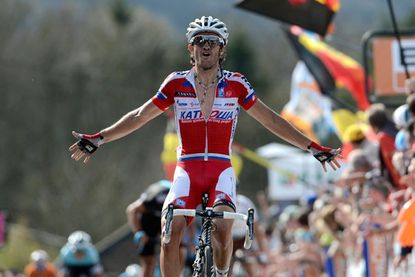 There weren't too many people who had the name of Dani Moreno down as a potential winner of the 2013 Flèche Wallonne.
The Katusha rider expected to win was his Spanish team mate (and Ardennes room mate at the famous Malpertus Hotel near Tongeren) Joaquim Rodriguez. But, when a rider in red and white surged out of the bunch on the Mur of Huy to win, it was Moreno, not 'Purito' who crossed the line ahead of Sergio Henao (Team Sky) and Carlos Betancur (Ag2r La Mondiale).
Unlike last year when Rodriguez arrived as a five-star favourite and his Katusha team had controlled the race, this time the Russian-registered team kept a much lower profile, letting world champion Philippe Gilbert's BMC squad keep things buttoned down till nine kilometres to go, at which point Katusha showed at the front - though most assumed it was for the benefit of Rodriguez.
In fact, before the start in Binche, 197 kilometres earlier, Rodriguez himself had played down his chances, saying that he "would work for the team." Everyone assumed it was bluff, though he was injured in a fall in the Amstel Gold race.
"We discussed the tactics for the race in the hotel room this morning," admitted Moreno later, "we are sharing a room this year. And the plan was for the team to ride for us both, depending on how things went during the race.
"There wasn't a fixed plan, it was always sort of fluid, depending on the way the race developed but we hoped both of us would be there in the finale. As it turned out, I was feeling better than Joaquim in the race and was in a better position as we got to the final climb".
As has become the custom since the race was reduced to around 200km from 1990, it was the final ascent of the Mur de Huy that dictated the outcome and tactics. Although on paper it's 'only' 1.3km with an average gradient of 9.3 per cent, it's savagely steep in places and, when Betancur sprinted clear, it looked like he had it won. But the Colombian had gone too soon.
"Joaquim told me not to attack too early and in fact I attacked at the same spot that he did last year. I think of all the Classics this is the one that suits me best because its so steep in places. Carlos had really good form in the Tour of the Basque Country, but he went from much too far out." This was, in fact, the first time that Betancur had raced the Flèche Wallonne.
But Moreno dismissed suggestions that this win would act as a catalyst to transform him from wing man to team leader.
"To be honest, I think my career so far has already demonstrated that I'm a capable rider. I won the Tour of Piedmont, the Tour of Burgos, I've won two stages in the Dauphine, won in the Vuelta, I finished fifth overall in the Vuelta last year, which are decent results, but I think I've improved year on year and gotten a little stronger each season.
"From here (the Ardennes) I'll be riding the Tour of Romandie and then the Tour de France, but only to help Joaquim. Of course, if an opportunity for myself presents itself, I'll take it. And it will be the same in the Vuelta too."
But, although he may look for an opening to win a stage or sneak into a break, he's not looking for a chance to usurp his team leader or even go for a bigger money offer from another team.
"I'm quite happy with my status in the team, I'm content with the role I play. And of course from time to time I'm able to play my own card within the team, to put myself under a bit of pressure. But I don't think that I would be able to cope with the pressure of being team leader every day in a Grand Tour the way that Joaquim does. I don't really see myself as the leader of a team at the moment, maybe in the future, maybe. But for the moment I'm happy here in this team with my position."
It seems highly unlikely then that we'll be seeing Dani Moreno upsetting anyone inside Katusha in the short to medium term then. He is pals with the main man (Rodriguez), he is happier among the Spanish element of the team than he ever was in his 2010 season at Omega Pharma ("I only speak Spanish, not English or Dutch") and, when the Katusha team was initially refused WorldTour status, he "wasn't bothered, because there were a group of us, of Spanish riders, who would have been OK."
At 31 - and given those contended sentiments - it's hard to see Dani Moreno doing much better than he already has done, though with a top five in the Vuelta and now the Flèche Wallonne on his palmares, who can blame him for being happy with his lot? There was no mention of his chances in this weekend's Liege-Bastogne-Liege and, if Purito is feeling better, Moreno will no doubt willingly play the role of lieutenant. But if he wins 'La Doyenne' on Sunday?
Related links
Daniel Moreno scores biggest win in Fleche Wallonne
Daniel Moreno solos to surprise Fleche Wallonne win
Spring Classics 2013 coverage index
Read Cycling Weekly magazine on the day of release wherever you are in the world with our iPad and iPhone edition - International digital edition, UK digital edition. And if you like us, rate us!
Thank you for reading 20 articles this month* Join now for unlimited access
Enjoy your first month for just £1 / $1 / €1
*Read 5 free articles per month without a subscription
Join now for unlimited access
Try first month for just £1 / $1 / €1