Glasgow World Championships were £8 million over budget
Scottish government had to find millions more for event, as £6.6 million arts and culture budget cut announced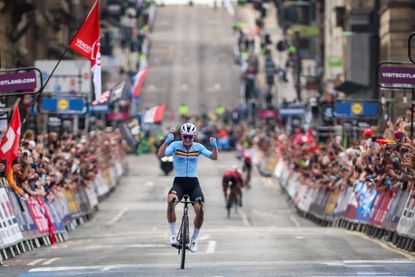 (Image credit: David Pintens / Getty Images)
The Glasgow World Championships were £8 million over budget, according to the Scottish government. The news came days after a £6.6 million cut to Scotland's arts and culture budget were revealed, The Scotsman reported this week.
The worlds overspend amounts to nearly a quarter – 22% – of the original £36 million budget that the Scottish Government had committed to. Even this had been raised from an original £30 million government budget, while Creative Scotland is set to face a further £4 million cut.
The Scottish culture secretary, the SNP's Angus Robertson, said that inflation was to blame for the extra World Championships costs.
The event, held in August, brought together every type of cycling, from road to BMX, para-cycling and even artistic cycling. The blue riband elite road races were won by Matthieu Van Der Poel and Lotte Kopecky.
The extra funding needed for the event, which was the biggest ever World Championship and cost a total of £60 million, will be sourced from across government rather than the culture budget specifically.
But, speaking at the Scottish Parliament's culture committee, Robertson insisted the cuts to Creative Scotland's budget would have "zero detriment" to the country's arts organisations, as the shortfall would be met by its reserves.
He said: "This year we saw funding from the Scottish Government and partners across the country to help deliver the 2023 UCI Cycling World Championships, which helped promote the health and wellbeing benefits of cycling, and drive wider economic and social benefits across Scotland.
"But due to increased costs, including inflation, the total funding provided by the government and partners is in the process of being finalised. Final costs will be confirmed in due course, but are in the order of £8 million.
"Government funding for the event prior to its completion was delivered through our major events budget," he added. "But since the conclusion of the event, any additional funding that may be required will be managed centrally."
The Scotsman called the World Championships "a vanity project which put Scotland on the global stage for a brief time," adding:
"The message that the Scottish Government appears to be sending is that it believes a one-off cycling event is more important than the health of our ailing arts and culture sector."
Thank you for reading 20 articles this month* Join now for unlimited access
Enjoy your first month for just £1 / $1 / €1
*Read 5 free articles per month without a subscription
Join now for unlimited access
Try first month for just £1 / $1 / €1