Government and Highways Agency agree to include cycling in road design guidelines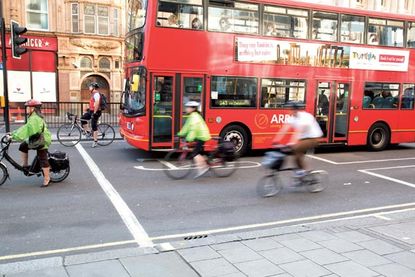 British Cycling has scored a win in its cycle-proofing push when the government and the Highways Agency committed to update road design standards to include cyclists.
Cycle proofing is British Cycling's term for designing cycling into all new roads, junctions and developments and the latest commitment will be to update the design manual for roads and bridges (DMRB) with cycling in mind.
Though the move, which was announced following a meeting with Transport Secretary Patrick McLaughlin, is welcome British Cycling admits there is still a long way to go on Britain's roads and change is urgently needed.
Following the announcement, British Cycling's Policy Advisor, Chris Boardman, said: "I'm pleased that we're now seeing the government begin to implement the commitments made by the Prime Minister on August 12. The scale of the task to make cycle proofing happen is significant however, that does not excuse the need to move fast on pushing through change. We cannot be waiting more than six months for these regulations to appear. The time to transform cycling in this country is - as the government has said - now."
He added government needs to take a leaf from sport's book, with targets to measure progress against, and an ongoing financial commitment to cycling.
Some of the expected changes in the DMRB include examples of roads with segregated lanes to help eliminate the appearance of new roads with narrow, obstructed cycle tracks.
However, British Cycling point out that the government's £94 million cycling cities money, announced recently, could be wasted without changes to current traffic sign regulations to allow for better side road crossings and cycle lanes, with more methods for shared crossings.
CTC's Chris Peck welcomed the announcement, but pointed out that though DMRB is used by local highways authorities outside of the Highways Agency, the roads it is designed for represent only three per cent of the UK network, many of which are main roads unused by cyclists. He added local authorities need better resources and guidance to provide quality cycling infrastructure.
He said: "It is excellent this is happening, but it is also important that our local roads are cycle proofed and that could be changed through maintenance systems to ensure cycling is included as part of road resurfacing works."
Peck agreed changing side-road priority was also key to make cycle journeys more attractive. He said in contrast with Dutch design which makes cycling fast and attractive, British roads are currently designed "in a way that looks like cyclists are being told to get off the road".
Thank you for reading 20 articles this month* Join now for unlimited access
Enjoy your first month for just £1 / $1 / €1
*Read 5 free articles per month without a subscription
Join now for unlimited access
Try first month for just £1 / $1 / €1