Haytor summit finish for Tour of Britain stage in Devon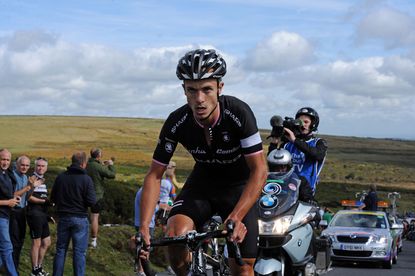 Cycling Weekly understands that the Devon stage of the 2013 Tour of Britain will finish on top of the climb of Haytor.
The Dartmoor climb already has history with the race.
In 2011 local rider Jonathan Tiernan-Locke make a brilliant lone break over its slopes to start his successful bid for the King of the Mountains prize.
Nearly 3000 spectators lined the six kilometre climb that day. The ascent starts in Bovey Tracy, which is only 35 metres above sea level, and climbs up to 390 metres. Haytor's average gradient is six percent, but its difficulty is that it climbs in a series of much steeper steps.
Although the Tour of Britain organisation declined to confirm the details of any summit finish ahead of tonight's route launch, technical director Mick Bennett told Cycling Weekly on Monday: "Our inspiration has come from looking at some of the Grand Tours and the traditional stage finishes.
"We've never been in a position to do them before, but now we can."
This year's race is also thought to include a time trial.
The climb of Haytor is part of cycling history in the south-west. Tour de France finisher Colin Lewis lives close to the start. The local Mid-Devon Cycling Club has promoted hill climb event on Haytor for 44 years, and last year Mid-Devon organised a road race from Bovey Tracy to the top.
The winner was Junior Heffernan, the young Plymouth racer who died in a racing accident recently.
A Tour of Britain stage finish on Haytor will not only provide spectacular racing, it will be a fitting tribute to Heffernan, as well as celebrating cycling in this part of the country and the many champions who have trained over Haytor.
The full route of this year's Tour of Britain is due to be unveiled in London tonight. See www.cyclingweekly.com for further news.
Thank you for reading 20 articles this month* Join now for unlimited access
Enjoy your first month for just £1 / $1 / €1
*Read 5 free articles per month without a subscription
Join now for unlimited access
Try first month for just £1 / $1 / €1