Heavens open at Milan-San Remo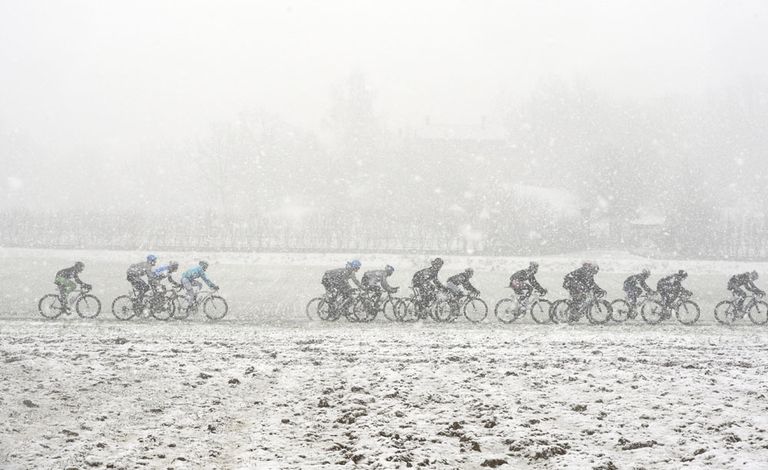 It was as though Mother Nature had held a grudge and decided to exact her revenge at Milan-San Remo on Sunday.
The sun had shone the days leading in making the miserable forecast - that riders especially were aware of - seem unlikely.
However, on this occasion, the weatherperson was right and overcast skies, threatening rain and a biting wind greeted the assembly outside the Castello Sforzesco.
The Classic is one of cycling's five Monuments and the build-up can evoke the same excitement and anticipation as something like Christmas.
There were whispers at the start, where rugged up journalists, team directors, riders and fans casually carried on, that the renowned Turchino passage would be avoided due to possible snow. A detour along the motorway was an option.
BMC boss Jim Ochowicz couldn't believe it.
"Today? Oh, I don't think they'll do that! That'll screw it all up," he laughed.
But dense cloud gave way to snow and the province of Alessandria and Genova quickly started to resemble a white winter wonderland, as did the Turchino and the motorway.
"There's one photo we're they're going across snowy fields," said cycling photographer Graham Watson.
"With a camera you can exaggerate how bad it was, but it was actually quite bad. You know, white snow in the foreground, white snow in the background and a little peloton going between the two."
The Turchino was neutralised and the peloton stopped racing after 117km where team buses were waiting to collect riders and take them to the restart at Cogoleto. There was no snow there - and visibility back at a premium - but the sun was still on vacation and the roads wet. Race organiser RCS, in a welcome move, also detoured Le Manie and what would have been a cold descent.
"Initially no one was really talking, we were just trying to get our clothes off and get warm," said Jesse Sergent, whose RadioShack Leopard teammate Fabian Cancellara finished third. "After that there was actually quite a bit of joking around about it, and then talking about the restart and the tactics. So surprisingly it was pretty positive at the bus afterwards."
Koen de Kort [Argos-Shimano] was counting down the distance to his coach.
"The last 10 to 15 kilometres were just, unbelievable, it was like we were in Antarctica. It was so cold and there was snow everywhere. It felt like after a sauna when you jump into an ice bath, but then you just stay in there for a couple of hours. That's how it felt.
"I tried to stay as far to the front as I could and not feel sorry myself. Apparently there were quite a few guys all the way in the back and between the cars. I kind of felt like shooting myself when I arrived."
One hundred and thirty five riders persevered however and made it to the finish of the 104th edition that will be remembered as much for the weather as the racing, protagonists and winners. And whilst Mother Nature did her best, for some, the achievement of finishing this prestigious Italian spectacle seemed as warming as the sun.
Was Milan-San Remo 2013 the worst weather conditions you've raced or worked in?
Jesse Sergent [RadioShack Leopard]
"Yeah, definitely! It was freezing cold. This morning it just got worse and worse and worse until there was - 10-15K to the bus - a snowstorm, which I suppose we hadn't really fully prepared for either. I changed my gloves like three times because as soon as they got wet they were just freezing."
Koen de Kort [Argos-Shimano]
"Once before I had a fairly similar sort of race in the Netherlands as an under-23 and it was horrendous. It was pretty much like this. I pulled out and went into someone's house and had a shower there. Here I only got really warm again about five minutes before we restarted. I sat in the bus and was wearing all the clothes I had. I had long-fingered gloves on and I was just sitting on my hands and I couldn't get warm."
Mark Cavendish [Omega Pharma-QuickStep]
"For sure, yeah! I've never raced in snow before. That was so cold. I've never been moaning from the cold before in a race."
Graham Watson [Photographer]
"I've seen worse weather in Paris-Nice when we've been up quite high in the Massif Central. In this race, of course, it hasn't been wet for about 20 odd years and I've never seen snow in this race. It was cold and miserable but at the same time you know you're part of quite an historic day so you kind of don't think about the cold because you're working and you want to get these pictures of the guys in the snow. But they were absolutely frozen."
Sylvain Chavanel [Omega Pharma-QuickStep]
"Even though the race was shortened, it was very tough, like riding through ice and that can have a big muscular effect. The worst conditions I ever raced in were in Waregem when Kevin Van Impe won. It was very cold too."
Thank you for reading 5 articles this month* Join now for unlimited access
Enjoy your first month for just £1 / $1 / €1
*Read 5 free articles per month without a subscription
Join now for unlimited access
Try first month for just £1 / $1 / €1
Sophie Smith is an Australian journalist, television reporter and presenter, who has provided coverage for Cycling Weekly from races across the world. She has covered eight Tours de France, as well as reporting for national and international newspapers as well as other magazines.
Follow Sophie Smith on Twitter and Instagram:
Instagram: sophiesmith86
Twitter: @SophieSmith86