Helen Wyman takes Koppenberg cross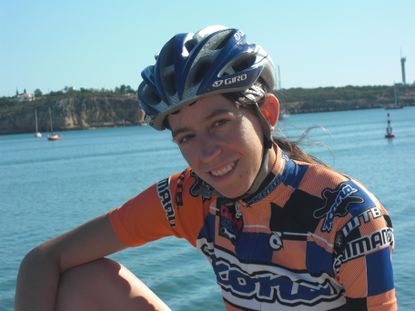 Helen Wyman has won the GVA Trophy Koppenberg cross in Belgium today, the biggest win of her career to date.
"I'm very happy," Wyman told Cycling Weekly. "It was amazing, my first win in Belgium after six years. I've won in Switzerland, Germany, Italy, everywhere, and at last it happened here - and in my home race."
Sven Nys (Landbouwkrediet-Colnago) won the men's race, ahead of Niels Albert and Kevin Pauwels.
"My start was atrocious yesterday [at the Superprestige race in Zonhoven] but by the end I was second. I felt really confident this morning. On the start line, which goes straight up the Koppenberg, nobody wanted to lead but I thought 'I'll do it'."
She continued: "A few girls came up to me on the cobbles. I went ahead on the muddy part of the hill; they showed the TV footage later and I took about 100 metres uphill!"
Sanne Cant then joined Wyman on the descent. The pair worked together until Cant suffered a problem with two laps to go and Wyman rode away from her.
Even a puncture during the race couldn't halt Wyman. "To win alone... all the Belgians were cheering for Cant, but when she dropped off, they were shouting for me," she said.
On a tough course made treacherous by very muddy conditions, Wyman showed both aggression and fine handling skills. "They put in another three or four corners to make it more technical. It was so slippy you could fumble down the slope and still be okay."
Third last Tuesday and second in yesterday's Superprestige race, confidence was key to the win. "Before the race, it was the first time I genuinely believed I could win," Wyman admitted.
Small things have also added up this year. "We've changed a few things: we moved to Oudenaarde, where it's just me, [husband and Horizon Fitness DS] Stef and Ian [Field], I've had Ronny Couliez helping me and a different training round that challenges me."
In good spirits and form, Wyman hopes to continue where she left off at the European championships in Frankfurt on Sunday.
As for tonight, she will enjoy a few glasses of champagne and wonder where to put her cobblestone trophy.
"You would not believe how heavy it is, I couldn't lift it over my head. It'd break the table, but maybe it'll make a good door-stop," she joked.
Thank you for reading 20 articles this month* Join now for unlimited access
Enjoy your first month for just £1 / $1 / €1
*Read 5 free articles per month without a subscription
Join now for unlimited access
Try first month for just £1 / $1 / €1