I failed my track cycling accreditation - the Olympic dream is over
I won't be pulling on a GB jersey anytime soon, it seems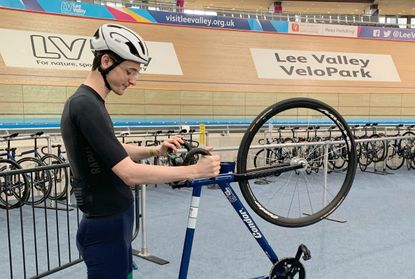 (Image credit: Future/Tom Davidson)
On Sunday afternoon, I took one of the biggest humblings of my adult life.
It has been difficult to tell people about it. Until now, only my nearest and dearest have known the extent of my calamitous track cycling assessment. I told my Editor about it yesterday in confidence, and he thinks the world (Cycling Weekly readers) deserve to hear the story, so here it goes.
I'll start at the top.
Last October, I covered my first UCI Track World Championships. I travelled to Paris - well, the city's not-so-leafy suburb of Saint-Quentin-en-Yvelines - and spent five days watching the world's best cycle as fast as they could in circles. I was in awe. I wanted a go. So I figured I'd get my accreditation.
The process looked simple. I'd need to do four sessions, or stages, and pass a final exam. On a hire bike at London's Lee Valley Velodrome, I cruised through the first three. I felt untouchable, the next Katie Archibald. The Paris Olympics were fast-approaching, and yes, I'd only been on a track bike three times, but the dream was starting to take hold. Step aside, Ethan Hayter, that Omnium spot would be mine.
Then came stage four, and my gold-medal-winning future vanished in a big, crushing puff of smoke.
Stage four is the final assessment. It works just like a driving test. You get majors and minors, majors being the treacherous manoeuvres that could lead to your or another's death, and minors being forgivable acts of stupidity. Apparently you're allowed to get three minors, absolute maximum, to pass.
Reader, I got nine majors. Oh, and eight minors for good measure.
In fact, so miserable was my effort, that the coach revealed I failed before I even got on the track. As I pushed off the handrail to set the bike in motion, I didn't look over my right shoulder - a cardinal sin in track cycling - and the game was up. She let me continue with the assessment (I had paid £40 to be there, after all), before breaking the bad news to me after a leg-sapping hour and a half.
"Have you ever watched track cycling?" she asked. I've reported on the last two World Championships, I thought, but revealing that, particularly with a smug grin on my face, would only make me look more stupid. Only an idiot could watch the pros close up, discuss tactics with the likes of Filippo Ganna, and then bungle the basics themselves. I was an idiot, but she wasn't to know that.
So, major one straight off the bat. The other eight were also all for "observation", i.e. not looking over my shoulder in each of the technical activities.
Simply put, I am a hazard, with all the spatial awareness of a blindfolded puppy. If someone attacked over the top of me in a race, I'd know nothing about it, and perhaps even swing through and crash them.
I have never been a hazard before. Back when I played football, I was decent at headers, and sometimes I'd catch someone with a stray elbow, but that's about as dangerous as I've ever been. In my assessment debrief, the coach told me she wouldn't let me on the track with her masters riders, and certainly not with her juniors, "some of whom have sponsors now".
It is rather ironic, really, that next month I'm off to the UCI Track Champions League, where I will have the chance to ride on the track with Olympians before the racing begins.
I left the Lee Valley Velodrome with a subdued air. I was frustrated and embarrassed, not because I'm rubbish at track cycling, but because I had paid the best part of £150 in total and had learned little.
How to get your track cycling accreditation
I recognise I'm not the best placed to write this snippet, but if my failure has somehow inspired you to take up track cycling, here's how you can do it.
You can gain a UK-wide accreditation by completing the four-stage process at one of either the London, Manchester, Glasgow, Derby or Newport velodromes.
It's around six hours in total, and although prices vary from venue to venue, is likely to cost around £150, including bike hire.
I can re-sit the test, the coach told me afterwards, but she reckons I should train another 20 hours beforehand (at £40 a session, remember).
She then made clear that they prefer to use the word "defer", rather than "fail". I appreciated the lexical softening of the blow, but sometimes you've got to call a shovel a shovel, and in this idiom, I am the tool.
Fortunately, my brother, who was in the same assessment, was also deferred, albeit by a more narrow margin than me. We saw the funny side once the disappointment had subsided. He sent me a message late on Sunday evening to say he had caught himself laughing, at home by himself, at the fact I failed before rolling onto the boards. I didn't even make it to the first bend.
The Olympics, at least for now, will have to wait.
Thank you for reading 20 articles this month* Join now for unlimited access
Enjoy your first month for just £1 / $1 / €1
*Read 5 free articles per month without a subscription
Join now for unlimited access
Try first month for just £1 / $1 / €1