'I was crying on the start line' - from horror crash to double champion in two months
Kate Allan was left with concussion and 80 stitches after a tyre blowout, but didn't let it stop her becoming a champion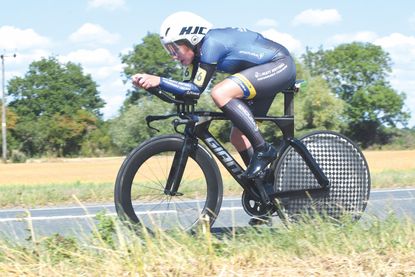 (Image credit: Larry Hickmott @ VeloUK)
Get The Leadout Newsletter
The latest race content, interviews, features, reviews and expert buying guides, direct to your inbox!
Thank you for signing up to The Pick. You will receive a verification email shortly.
There was a problem. Please refresh the page and try again.
When Kate Allan suffered a horror crash in the 50-mile National Championship in July, anyone would have forgiven her for hanging up her aero wheels for the rest of the season – if not longer.
But despite needing 80 stitches, losing a tooth and suffering concussion, she never once considered giving up. In fact the Team Bottrill rider was back on the road a month later and only a few weeks after that went on to win the two biggest prizes in UK time trialling – the National 25-mile and the National 10-mile titles.
"I ride my bike for the love of it and I love to compete," says the 38-year-old mother of two. "I thought, well maybe I can use it as a positive experience, I genuinely didn't get down with it."
The Berkshire rider had suffered what turned out to be a rear-wheel blowout at 35mph, causing the bike to veer out of control.
"I was trying to salvage it, but I realised I was going down," she says. "And that's about as much as my memory shows me."
Badly concussed, Allan was comforted by a fellow competitor and a driver who had seen the incident, only for the day to take yet another nasty turn. A motorcycle collided with Allan's team-mate Alex Clay as both navigated the crash scene and Allan was nearly hit by the out-of-control motorbike, which ended up in a ditch next to her.
As Allan says: "You couldn't make it up."
She was taken to hospital in an ambulance, where she was put on a paracetamol drip. Her team-mate Emily Martin, who had won the championship, forwent her medal ceremony to hunt down Allan and sit with her, keeping her company and "scraping the dried blood out from under my fingernails."
At first Allan was unable to even get in and out of bed without help, and she says the effects of her concussion were obvious: "My children like to play the ABC game at dinner, where you name things beginning with ABC – I could not think for love nor money of anything beginning with ABC!" she says.
After two weeks completely off the bike, she began back with some very light spinning under the watchful eye of her coach Matt Bottrill. By the end of July she was back riding on the road, with the Nationals just three weeks away. But it wasn't until mid-August when Allan took part in her first race since the crash, that she was confident she was ready for the title races.
"I was still very nervous," she says. "It wasn't just a case of 'can I get my form back?', it was 'can I ride confidently at speed?'"
There were tears on the start line of the event, she recalls, but Allan won the event with a 51:51.
"It started with a windy descent, which is probably not what you'd choose," she said. "But it went really well. Your body just remembers what to do."
Going into the National 25 two weeks later, Allan said she knew there was a chance of victory, but she was managing expectations.
"I like to think I had a chance of winning it because I had the form before my crash," she says, "but I was realistic – I didn't have the mileage, I didn't have the consistency."
In the event she led in a Team Bottrill 1-2-3, beating her team-mate Clay by more than a minute, with Emily Martin coming in third.
After coming second in the Tyneside Vagabond 100-mile event the next day, she went to the National 10-mile Championship and recorded an even more satisfying victory there, putting 38 seconds into second-placed Lucy Bryam (Team Sheffield).
"I was especially pleased with the '10'," she says, "because I won by such a margin, and it's not one I consider to be a strength."
The season isn't quite over for Allan now – she is eyeing up a few fast events with the hope of improving her PBs over the two distances, which currently sit at an impressive 19.38. for 10 miles and 50.14 for the 25.
Next year she hopes to record a 49-minute '25' ("I'll be happy with a 49.59!" she says), and possibly even take on Hayley Simmonds's seven year old 50-mile competition record, which stands at 1:42.20.
"We've joked about it. Hayley's had it for a while – I saw her in August and she said, 'you're getting dangerously close!'" Allan laughs. "It's 30 seconds I need to find – I just need to get all the elements aligned."
As Allan's crash comeback shows, she is a determined character. If she puts the same resolute focus into that 50-mile record, there will surely be a new name on the comp records list next season.
Thank you for reading 20 articles this month* Join now for unlimited access
Enjoy your first month for just £1 / $1 / €1
*Read 5 free articles per month without a subscription
Join now for unlimited access
Try first month for just £1 / $1 / €1
Get The Leadout Newsletter
The latest race content, interviews, features, reviews and expert buying guides, direct to your inbox!
After cutting his teeth on local and national newspapers, James began at Cycling Weekly as a sub-editor in 2000 when the current office was literally all fields.
Eventually becoming chief sub-editor, in 2016 he switched to the job of full-time writer, and covers news, racing and features.
A lifelong cyclist and cycling fan, James's racing days (and most of his fitness) are now behind him. But he still rides regularly, both on the road and on the gravelly stuff.