Ian Field scores second successive National Trophy win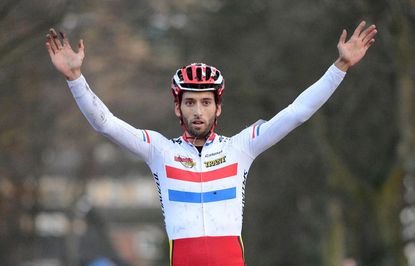 National champion Ian Field continued the build-up to his title defence next month with a second successive National Trophy victory in Sunday's fifth round at Peel Park, in Bradford.
Field (Hargroves Cycles) contested the lead throughout with series leader Paul Oldham (Team Hope Factory Racing) before opening up a gap in the final five laps which he maintained to the finish on a technical and increasingly slippery course.
A resurgent Nick Craig (Scott Racing UK) worked his way through to take third ahead of leading under-23 Steve James (Hargroves Cycles), both overhauling fifth-placed Oli Beckingsale (Endura).
"It was very different to the previous race at Milton Keynes and I didn't feel too good, I was heavy-legged and tired," said Field.
"Paul was strong and when he got a gap it wasn't easy really to close it. Then I seemed to eek away a little bit through the technical sections and then I gave it some gas through the climb to get away.
"The gap wasn't all that big and it was so slippery that I had to keep working all the time - one little slip and he would have been back with me."
Overall women's leader Hannah Payton (Kinesis Morvelo Project) tightened her grip on the competition with a hard-fought victory over runner-up Merce Pacios Pujado (Blue Motors) and Abby-Mae Parkinson (RST Racing) - the outcome settled right at the end when Payton gained a small advantage over the top of the final bank into the finishing straight.
"I knew if I got to the finish straight first I'd got two or three seconds so I had to nail it first time," said Payton. "It was really hard work today."
Hannah Payton
Ian Field
Mountain biker David Fletcher (Orange Monkey Pro Team) used his local knowledge to win round 12 of the SRAM Notts & Derby League on home ground at Sherwood Pines Forest Park in Mansfield, holding off roadman Graham Briggs (Rapha Condor CC) with Midlands champion Jon Harper (Mansfield RC) pushed into third place.
London League overall leader Matt Holmes (Arctic Premier RT) saw his hopes disappear with two punctures in the wet in the 11th round at Frylands Wood Scout Outdoor Centre in Croydon - victory going to Michael Butler (Activ Cycles Folkestone), who went ahead when runner-up Jack Finch (PM Racing) also punctured on an 'old school' course back in use for the first time in over 15 years.
Matthew Webber stepped up his challenge for overall Eastern League honours with victory in the Broome Heath Scramble at Bungay, leading a one-two for Hackney GT ahead of team-mate Ben Lewis.
Alex Evans (Marton RT) was an all-the-way winner of the Stockton Cyclo-Cross at Preston Park, on Teesside, while Dan Whitehead of Bike Station Ballater won both legs of the Cross At The Castle two-day promotion - the first race the final round of the Ridley Bikes Scottish Series - in gale-force winds on the Isle of Mull.
In the Wessex League, Michael Cotty (Wheelbase Cannondale) secured victory in the VC Venta cross in Winchester, holding off Matt McDonald (Hargroves Cycles) by almost two and a half minutes.
Related links
Photo gallery: National Trophy Braford, by Andy Jones
Thank you for reading 20 articles this month* Join now for unlimited access
Enjoy your first month for just £1 / $1 / €1
*Read 5 free articles per month without a subscription
Join now for unlimited access
Try first month for just £1 / $1 / €1