Ian Wilkinson wins Stockton Grand Prix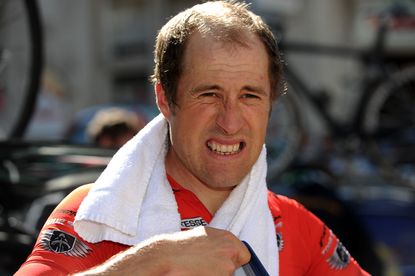 Ian Wilkinson took his first victory of the 2013 Premier Calendar with a perfectly timed move in the Stockton Velo29-Altura Grand Prix on Sunday.
The 34-year-old UK Youth rider darted past the Team Raleigh duo of Graham Briggs and Evan Oliphant right on the line to steal the win.
The race, which takes in the countryside around Stockton-on-Tees before heading back into the centre for a smaller finishing circuit, saw perfect riding conditions with a temperature of 25 degrees and a cool breeze.
There was a break almost immediately with ten riders taking off. Sam Harrison (100% ME), Tom Scully (Raleigh), Yanto Barker (Team UK Youth), James Moss (IG-Sigma Sport), Dave McGowan (Metaltek), Jamie Scott (MG Maxifuel), Alistair Rutherford (Wheelbase), Mike Cumming (Rapha Condor JLT), Dan Barry (Node4-Gordana) and Dominic Jelfs (Madison Genesis) made up the group with Herbalife Leisure Lakes missing out.
The Herbalife riders made sure they got to the front of the main peloton in an effort bring the break back in and eventually the ten leaders were pulled back in.
As the field came into Stockton for six laps of the finishing circuit, Node4-Giordana's Mike Northey managed to open up a five second gap off the front.
But he couldn't get more than 15 seconds ahead and as the bell rang, Alistair Slater (100%ME) led a group of riders over to Northey before attacking himself.
Sixteen men were now all in with a chance of victory with Slater being swallowed back up and Raleigh looked as though they were hatching a plan.
They had three strong sprinters in the breakaway in Graham Briggs, Evan Oliphant and current overall Premier Calendar leader Tom Stewart.
It seemed as though they were looking to launch one of these as the finish line approached and with Briggs taking the lead, it looked as though they would take victory, as they did last year.
But then, with the end in sight, Wilkinson hugged the barrier as he blasted past Oliphant and then Briggs, leaving them no time to react before crossing the finish line.
Speaking after the race, Wilkinson said: "The circuit should be used as a template for how to run a race in this country. It made for a great race."
"My form is coming at just the right time. I had a win at Rutland and that was a great way to start the season. But this is my first Premier Calendar win this year."
On Friday night, Stockton-on-Tees town centre hosted a British Cycling Elite Circuit Series race which was won by 100% ME rider George Atkins.
The 21-year-old was part of an early break started by Ed Clancy (Rapha Condor JLT) before getting away towards the end of the race. Clancy eventually finished third and Graham Briggs was third.
Thank you for reading 10 articles this month* Join now for unlimited access
Enjoy your first month for just £1 / $1 / €1
*Read 5 free articles per month without a subscription
Join now for unlimited access
Try first month for just £1 / $1 / €1
Snowdon Sports is a long-established independent sports news agency, which supplies editorial to a range of media outlets - such as Cycling Weekly - as well as sports governing bodies. Snowdon Sports often covers results at Cycling Time Trials events in the UK and has long been a source of information and imagery to Cycling Weekly.