IG Markets link up with Sigma Sport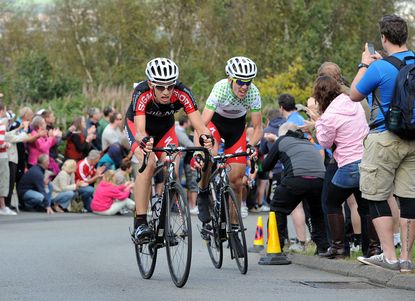 IG Markets have joined Sigma Sport as joint title sponsor of the leading British team for the next two years.
"We kept it under the radar, but we're super pleased with this. It gives us an opportunity to really build the team and take it to another level," team manager Matt Stephens told Cycling Weekly.
The deal was forged in the last month. IG Markets have thrown their support behind cycling in the last couple of years, notably supporting Team Sky, the London Nocturne and their own ranking system, the IG Pro Cycling Index.
The squad will be known as Team IG-Sigma Sport. The considerable budget increase from the two-year deal will "enable the team to race further afield and help to put riders in better shape for riding on the domestic scene," according to Stephens.
Stephens wants his riders to stay combative. "We'll continue to race the way I'd like the team to, in an aggressive style," he said.
The squad gained publicity and plaudits last season, thanks to the likes of Russell Hampton's Tour of Britain King of the Mountains success, as well as Tom Murray's day-long escape in the Olympic test event.
With IG Markets a significant partner of the Tour of Britain, it could also give the squad an easier ticket into their premier race of the year.
Team IG-Sigma Sport for 2012
Steven Burke
Dan Craven
Simon Gaywood
Andrew Griffiths
Jake Hales
Peter Hawkins
Steve Lampier
Tom Last
Tom Murray
Simon Richardson
Wouter Sybrandy


Thank you for reading 20 articles this month* Join now for unlimited access
Enjoy your first month for just £1 / $1 / €1
*Read 5 free articles per month without a subscription
Join now for unlimited access
Try first month for just £1 / $1 / €1