Jan Ullrich: 'The problems started when I could not see my kids, I exploded'
'I broke some TVs and I pulled the punching ball from the ceiling. To calm down, I took cocaine and amphetamines,' says Ullrich who is now allowed to speak to his children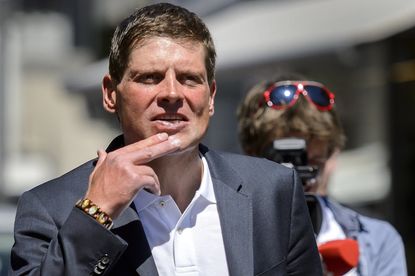 (Image credit: AFP/Getty Images)
Former German champion Jan Ullrich is recovering in rehabilitation in Frankfurt to cure alcohol and drug problems, saying that he "exploded" when he could not see his children following troubles with his ex-wife.
Ullrich won the 1997 Tour de France. His career was tarnished later by doping scandals. Lately, he has had trouble with alcohol and drugs, leading to two separate alleged physical attacks in August - one of which resulted in a restraining order being issued.
The most recent arrest saw Ullrich apprehended for assault or attempted manslaughter, after he allegedly strangled a woman "until her eyes turned black."
"I am much better because I now have the right to call my children every day. My children are my medicine," the 44-year-old told German daily Bild.
"When the problems really started with Sara [his ex-wife] and I could not see or talk to the kids for weeks, I exploded. I broke some TVs and I pulled the punching ball from the ceiling.
"To calm down, I took cocaine and amphetamines. But I do not need it now, if I have my children, I do not need drugs."
Two weeks ago, he was admitted to a psychiatric hospital after detention for allegedly assaulting a prostitute in a Frankfurt hotel.
The run-in followed a 24-hour detention in Mallorca, Spain, for forcing his way into his neighbour's home, German actor Til Schweiger, and threatening him.
It is not clear if Ullrich has apologised to Schweiger or the woman he allegedly assaulted.
He has been released on bail after the reported strangling, pending an investigation for possible attempted manslaughter.
Former American rival Lance Armstrong flew to Germany this week to be at Ullrich's side and offer help. He wrote in Instagram, "Please keep Jan in all of your thoughts and prayers. He needs our support right now."
Ullrich will lean on Armstrong for support. He plans on going to Colorado to visit a clinic Armstrong suggested to during his recent trip.
"After my therapy here in Germany, I'll go to his home in the USA, in Colorado," Ullrich said. "He suggested to me a clinic where I could finish my convalescence and eliminate the last toxins of my body."
The former cyclist is the only German to have won the Tour de France. He also won the Olympic road race in Sydney in 2000.
However, he was linked in the Operación Puerto doping scandal and prohibited from racing the 2006 Tour de France. The doctor at the centre of the ring, Eufemiano Fuentes withdrew blood from cyclists, stored the bags and transfused them back ahead of major events.
Ullrich used the code names JAN and Hijo Rudicio. He visited Fuentes in Madrid a reported 24 times from 2003 to 2006.
German Team T-Mobile fired him on July 20. He retired and never raced again. Only in 2013, did he admit to his doping past. That same year, after he was stripped of his seven Tour de France wins, Armstrong admitted to doping in his career.
From the same era, 1998 Giro d'Italia and Tour de France winner Marco Pantani died of a cocaine overdose in 2004. He had drug problems and overdoses beforehand following problems in cycling for high hematocrit readings.
Thank you for reading 20 articles this month* Join now for unlimited access
Enjoy your first month for just £1 / $1 / €1
*Read 5 free articles per month without a subscription
Join now for unlimited access
Try first month for just £1 / $1 / €1