Jan Ullrich arrested in Germany over 'prostitute assault'
The Tour de France winner allegedly injured a prostitute whilst under the influence of drugs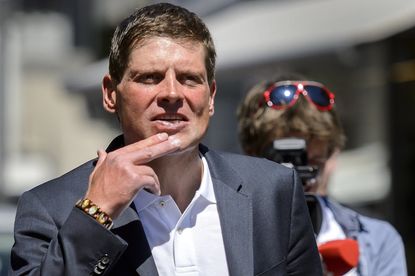 (Image credit: AFP/Getty Images)
Tour de France winner Jan Ullrich has been arrested for allegedly assaulting a prostitute whilst staying at a hotel in Frankfurt.
Police have said that Ullrich was under the influence of drugs and alcohol at the time of the alleged assault, during which he reportedly "strangled" the woman "until her eyes turned black."
The arrest was made on Friday morning, and Ullrich is currently in police custody.
The 1997 Tour de France winner is said to have travelled in a private jet from his home in Mallorca to Frankfurt - where he planned to attend therapy - on Thursday.
The incident is said to have taken place at a "luxury hotel" and police say Ullrich argued with an "escort lady" and "physically attacked and injured her".
Last week, a court in Palma issued a restraining order against the German ex-pro after he jumped over the fence of his neighbour, the actor and film director Til Schweiger, on Friday August 3.
Ullrich was arrested for "forceful entry and threats" but later released with a restraining order.
Ullrich said that things became violent when someone on Schweiger's property jumped at him "with a Kung Fu kick."
The actor told Bild that his relationship with Ullrich had gone downhill following the Tour and Vuelta a España winner's separation from his wife, Sara.
"[He] had almost become a family member but when his wife left him he started taking amphetamines: he would only sleep for two hours", Shweiger said, "he'd start drinking beer at 6am and went on like that until the evening."
Ullrich claims he had been "thrown me into the deepest despair" following separation from his wife and children, and his lawyer said following his arrest last week that he was waiting for a place in a rehabilitation unit.
The 44-year-old told Bild: "For the love of my children, I am doing a therapy now".
"The separation from Sara and the distance to my children – whom I have not seen since Easter and have hardly spoken – have effected me a lot. That's why I've done and taken things that I very much regret."
The incidents of this and last Friday are the latest in a string of arrests.
In 2002, Ullrich lost his driving license for drink driving, and in 2014 he injured two people in Switzerland whilst driving under the influence, for which he received a fine and suspended prison sentence.
Thank you for reading 20 articles this month* Join now for unlimited access
Enjoy your first month for just £1 / $1 / €1
*Read 5 free articles per month without a subscription
Join now for unlimited access
Try first month for just £1 / $1 / €1