Jonny Clay confident for future of road racing after appointment National Liaison Officer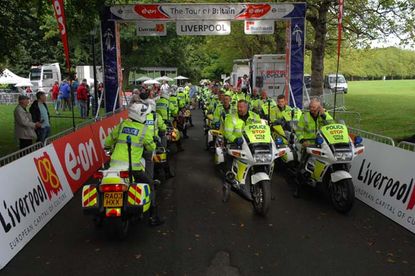 Get The Leadout Newsletter
The latest race content, interviews, features, reviews and expert buying guides, direct to your inbox!
Thank you for signing up to The Pick. You will receive a verification email shortly.
There was a problem. Please refresh the page and try again.
Jonny Clay, British Cycling's cycle sport director, is confident that positive steps are being made in their attempts to safeguard the future of road racing in Britain.
Clay spoke to Cycling Weekly after the announcement that Bob Brayshaw, inspector at West Yorkshire Police, has been appointed as National Liaison Officer.
He will take the lead on addressing local-level issues between race organisers and police authorities.
A list of recommendations from Sports Minister Hugh Robertson earlier this year backed the creation of the new role, on the grounds that it would promote a stronger working relationship between BC and the police.
Inspector Brayshaw's immediate priorities are to review the outcomes of new marshalling strategies, such as the marshal accreditation scheme that has been successful during trials in Wales and Essex.
The Tour of Britain grinds to a halt
A new, sign-based approach, scheduled to be piloted over the summer, will also be examined. Clay said: "Marshalling has become our main priority, and we've made good progress in this area recently.
"The Community Safety Accreditation Scheme (CSAS) has been proven to work when it's been used it Wales and Essex, so we will be keeping that open and pushing it on nationally."
Brayshaw will oversee a new sign-based system, due to be piloted this summer, in which the marshals become legally empowered.
"We will begin training volunteers this summer, and the whole pilot will be monitored closely by British Cycling, along with ACPO (Association of Chief Police Officers), the Department for Transport, the Home Office and the Department for Culture, Media and Sport (DCMS)," continued Clay.
"Just like the CSAS, we need to show to police forces in England and Wales that this system will work." He added that the new scheme will be evaluated over the winter, with BC likely to push on with just one of the two methods.
Nature of the role
Inspector Brayshaw comes to the role with a strong level of experience in cycle races, having previously overseen policing and safety at the Tour of Britain.
Even so, his appointment was not ceremonial, with three people interviewed for the position. He will report to Clay, who hopes that the nature of Brayshaw's role evolves over the next two years.
Clay said: "At first, he will be predominantly reactive, as he looks at helping us overcome the issues we currently face. Eventually we hope he will be proactive; developing not only the marshalling side of affairs, but to push through much-needed amendments to the 1960 Cycle Racing on Highways Regulations.
"While it's quite apparent what needs to be changed, getting the modifications implemented is a rather long process."
Relations with ACPO
Some believe ACPO are traditionally unfriendly to cycling, something that Clay was quick to dismiss.
"That may be some people's perception, but we have to be careful not to tarnish every force and officer with the same brush. Through my dealings with them, I can safely say they have always been willing to collaborate with us."
Clay acknowledged the inconsistencies in policing that have had an affect on road racing in Britain, yet sees no reason why shifting attitudes cannot be reversed.
"With the increasing risk assessments involved with staging races, it's quite obvious why some forces don't want to hold events in their area. We need to overcome this, by convincing Government departments to play an active role so we can carry out the administrative procedures in a standard way up and down the country."
A recent ACPO document looked into policing costs for cycling races, using a National A event as a case study. Cautiously, Clay hopes this will again provide a more uniform charging policy.
"ACPO only offer guidance but usually the majority of forces welcome what they say and adapt to their recommendations."
"While races like the Tour of Britain may become special cases because of their size and stature, we hope the ACPO suggestions for other races will remove the uncertainty over how much the police charge."
Looking for growth
To coincide with Inspector Brayshaw's appointment, British Cycling are confident that more races will appear on the calendar. "We will be looking for growth on highway-based events over the next two to three years."
"But not only do we want the numbers to improve, we want to see the roads used effectively, which means having full fields, holding several races on the same day where possible, and circuit-based events," added Clay.
Thank you for reading 20 articles this month* Join now for unlimited access
Enjoy your first month for just £1 / $1 / €1
*Read 5 free articles per month without a subscription
Join now for unlimited access
Try first month for just £1 / $1 / €1
Get The Leadout Newsletter
The latest race content, interviews, features, reviews and expert buying guides, direct to your inbox!
Nick Bull is an NCTJ qualified journalist who has written for a range of titles, as well as being a freelance writer at Beat Media Group, which provides reports for the PA Media wire which is circulated to the likes of the BBC and Eurosport. His work at Cycling Weekly predominantly dealt with professional cycling, and he now holds a role as PR & Digital Manager at SweetSpot Group, which organises the Tour of Britain.