Josh Edmondson shows his worth to Team Sky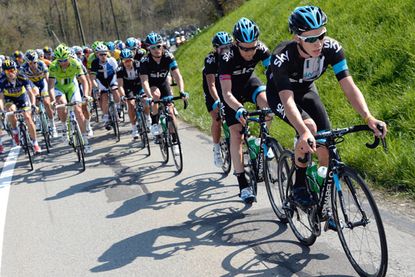 Get The Leadout Newsletter
The latest race content, interviews, features, reviews and expert buying guides, direct to your inbox!
Thank you for signing up to The Pick. You will receive a verification email shortly.
There was a problem. Please refresh the page and try again.
As a last-minute signing to Sky when he was set to ride for Bontrager-Trek in the US, 20-year-old Josh Edmondson has had to learn a lot in a hurry. One week he's on the local chain gang, the next he's on a Sky winter training camp, trying not to T-bone Sir Bradley.



"I had never guested with any pro teams. In fact, I had never raced with the pros - the only time was at the Tour of Britain - so I was a bit nervous at the first training camp in Majorca, but I think they took it easy on me," recalled Edmondson.
But they only took it easy up to a point. "The training load is pretty heavy. I remember at the first training camp in winter, the three of us [fellow new pros Ian Boswell and Joe Dombrowski] had slightly lighter schedules, and on the days when I came down to breakfast with my eyes still closed Rod Ellingworth would tell me to take it easy or take a day off."
Prior to working with Ellingworth, Edmondson had never been coached by anyone. Not having been part of any British national development squad and never having been a track rider, Edmondson earned his place at Sky via a series of impressive performances with the Italian Colpack team where he had been placed by the Dave Rayner Fund. Eyebrows might have been raised, but Edmondson has risen to the various challenges, not only the obvious ones.



Start at the bottom
Edmondson's first race in Sky kit was in Majorca where, obviously, he was required to work rather than win. "Bradley asked me to get some bottles and although I had seen it a lot on telly, I had never done it in a race.
I went back to the car and they just kept handing bottles out. I was running out of places to put them, I started to wonder if I was going to have to try and balance them on the top tube. [Team-mate Vasil] Kiryienka is amazing when it comes to that stuff.
Edmondson looks at home with his new team
"My first World Tour race was Catalunya and everyone was telling me how different it was going to be after the Tour of the Algarve. It sort of was, in a way, but more in the sense that we were there to race for the GC, whereas in Portugal we had been there thinking more about stage wins. That meant we were trying to control the race a bit more and it was harder work. I liked it, although on the climbs over 1,500m I struggled a bit. I had never raced at that sort of altitude before."
As you might expect for a new pro in one of the world's biggest teams, Edmondson has had his eyes opened.
"I tend to panic a bit when we are riding at the front and trying to control things. Like at the Tour of Romandy when we were riding for Chris Froome, and attacks were flying off the front all over the place, I was ready to jump on anything but I remember Richie [Porte] coming up and telling me, in a quiet voice, 'Josh, it's OK, calm down', and he told me which wheels I needed to follow.
Richie has talked about how he's still learning, but he's very modest; he's got a lot of experience himself and he's good at passing it on. Both Bradley and Chris are good at coming straight out with advice, actually, but every day you learn stuff, just by watching and listening."



New to the numbers
For a rider who never owned a heart rate monitor, the famous 'numbers based' training regime of Sky came as a bit of a shock.
"It was hard at first, but only in terms of understanding all the data because there is so much of it. There are people on the team who are great at breaking it all down and I'm enjoying it now. It means when I am training and feel bad or I have sore legs but can still produce the power I know why.
"In races you just don't use it because you are riding as hard as you can anyway, but in training it's really useful. I wish I had used it earlier."
Training with a coach, SRM power cranks and Training Peaks software aren't the only new experiences for Edmondson. There's riding a time trial bike.
"I rode a time trial as a junior, but when I went to Italy I was a climber, and in Italy you are expected only to do the stuff you are good at (laugh), so I never rode a time trial for two years. I enjoyed the one in Algarve, though I did end up riding it all in the big ring because I had a bit of a mechanical - and it was a bit hilly for that to work!"
Apart from his stage race experiences, Edmondson finished both Amstel Gold (96th) and Flèche Wallonne (43rd at 53 seconds) "I preferred the Flèche; in the Amstel you have to really know how to fight to stay in the front and deal with the road furniture - Philippe Gilbert is amazing at that. But the Flèche roads are a bit wider and the course suits me better.
I liked it. I was quite near the front the second time up the Mur de Huy with Sergio Henao, helping him, so there were about 50 of us and 20km to go."




Edmondson enjoyed the Fléche Wallonne


Better on than off
"I stayed with him as much as I could to keep him out of trouble, and in the end it was easier to finish than climb off."
In fact, Edmondson has finished all but one of the races he has started this season, only climbing off on the penultimate stage of the Tour of Romandy - the one in the mountains with the apocalyptic weather. In light of his age and experience, that is hardly a crime. It has been a big early season for Edmondson, but nothing to tax him unduly.
"It's the way I like it and so far it's worked well. In the past, I've sometimes kept going until I've cracked, but now, with Rod, I can call him and tell him I feel bad or tired or whatever to see if I should back off or actually take a day off rather than keep going till I damage myself."
With Sky's reputation for getting the best out of riders and with the enthusiasm and results he's shown so far, surely Edmondson will progress a bit further yet.



This article was first published in the May 30 issue of Cycling Weekly. Read Cycling Weekly magazine on the day of release where ever you are in the world International digital edition, UK digital edition. And if you like us, rate us!
Thank you for reading 20 articles this month* Join now for unlimited access
Enjoy your first month for just £1 / $1 / €1
*Read 5 free articles per month without a subscription
Join now for unlimited access
Try first month for just £1 / $1 / €1
Get The Leadout Newsletter
The latest race content, interviews, features, reviews and expert buying guides, direct to your inbox!