Juan Antonio Flecha draws career to close at Tour of Beijing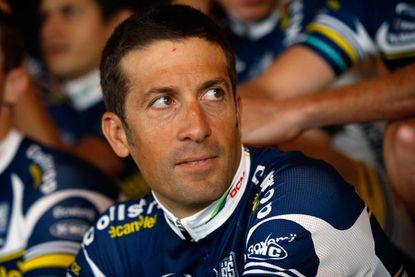 Juan Antonio Flecha (Vacansoleil-DCM), Spain's best Cobbled Classics rider, closed his career today in the Tour of Beijing. Outside the Bird's Nest stadium, he parked his bike and finalised his plans for a long holiday in Hawaii.
"I remember my first pro race in Majorca, I knew the names of everyone but now I probably know 50 per cent of them," Flecha told Cycling Weekly. "There are so many riders, I don't even know them. I looked around me the Tour of Beijing, just how many of them do I know? I have to look at the bikes!"
Flecha, 36, raced since 2000, finished on Paris-Roubaix's podium three times and won a stage in the Tour de France.
Vacansoleil, without new or renewing sponsors, is disbanding this year. The timing is perfect for Flecha, who said he was thinking about retirement as early as last May, during the 2012 Giro d'Italia.
"When Sky offered me a two-year contract, I thought, I don't know if I want to do two years," Flecha said. "I know what you are thinking, maybe since the team is stopping... Ask my agent, I told him that maybe I'll only race one more year. We got a two-year deal with Vacansoleil just to be safe, but I was already thinking about it last year in the Giro. At Christmas, I said to my family, there's a big chance this season is going to be the end."
Flecha, whose name means arrow, fired an imaginary one when he won the Tour's stage to Toulouse in 2003. That image stands out with the ones of him exhausted, covered in dirt on the green grass in Roubaix Velodrome's infield. He placed third twice and second once.
"The Tour was something special. If I could only keep one win, that'd be the one I'd keep," added Flecha.
"I could've won more but that's what I have. I have to be happy with what I've done. A Paris-Roubaix win would've been perfect. Fabian Cancellara and Tom Boonen won many times in the last 10 years, there wasn't much room left. I'm not disappointed, though."
Had it not been for Oscar Freire, who retired last season with Milan-San Remo and World Championship wins, Flecha would be Spain's out-right classics king. Instead, he ruled the north, placing in Roubaix and the Tour of Flanders and with team Sky, winning the Omloop Het Nieuwsblad.
Flecha finished the Tour of Beijing with a flourish, getting himself into the final day's escape group. "It wasn't emotional. Not at all," he said. "The real retirement was with the Tour of Lombardy last week. That was the last important race for me."
He believes he will return to cycling, perhaps become a sports director, but first he needs time. Flecha flies directly from Beijing to Honolulu this week to begin a long break. He has visited Maui many times, an island he calls perfect for riding and wind surfing. He explained that he will stay there as late as Christmas, reflecting on his career and thinking about the future. Just like racing in a classic, he said, "I can enjoy my time and when the opportunity comes, I can take it."
Thank you for reading 20 articles this month* Join now for unlimited access
Enjoy your first month for just £1 / $1 / €1
*Read 5 free articles per month without a subscription
Join now for unlimited access
Try first month for just £1 / $1 / €1