Jumbo to end title sponsorship of all Jumbo-Visma teams after 2024, according to reports
Team boss Richard Plugge confirms Dutch supermarket chain is "re-evaluating all their sponsorship deals"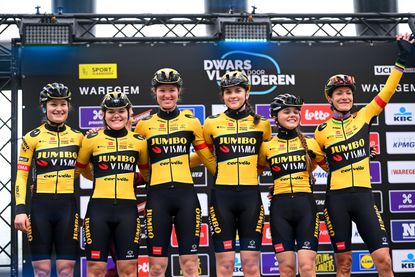 (Image credit: Getty Images)
Dutch supermarket chain Jumbo is re-evaluating its sports sponsorship agreements and will not continue as Jumbo-Visma's headline sponsor after 2024, according to reports on Wednesday.
A spokesman for the supermarket said that the company is considering whether its "sponsorship policy still matches our vision and ambitions and the needs of our customers". However, Dutch public broadcaster NOS reported on Wednesday evening that this would mean the end of the brand as a top sponsor.
Jumbo has not ruled out staying on as a lesser sponsor of the cycling team of Wout van Aert, Marianne Vos and Jonas Vingegaard among others. It is also the lead sponsor of the top Dutch speed-skating team, which goes by Jumbo-Visma too.
The company has over 700 stores in the Netherlands and Belgium, with a turnover in excess of €10 billion.
"We're not worried," Jumbo-Visma cycling team's general manager Richard Plugge told Velonews post-Dwars door Vlaanderen on Wednesday. "I can confirm the news and I understand that it's been a topic for Jumbo for a while.
"The new CEO of the Jumbo company Ton van Veen is blowing a fresh wind through the company and they're re-evaluating all their sponsorship deals. I can confirm that we are talking with each other to see what the next steps can be."
"We are working together on a long-term successful future for Team Jumbo-Visma and it is our intention to remain associated with the team in the future," a Jumbo spokesperson said.
"Jumbo is currently looking at its positioning. We are also looking at whether our sponsorship policy still matches our vision and ambitions and the needs of our customers. Our current sponsorship agreement with Team Jumbo-Visma runs until the end of 2024. As soon as there is something to report, Jumbo will do so."
The men's Jumbo-Visma ended 2022 as the most successful team, winning the Tour de France through Vingegaard on the way. Before the end of March this year, the Dutch team already has 20 wins, including every cobbled Classic. Jumbo has been a headline since 2015.
Their women's counterpart has existed since 2021, and has been WorldTour since last year. Their top moments have included two stage wins and the green jersey for Vos at the inaugural Tour de France Femmes.
Plugge was asked if the future would be without Jumbo: "Or with them. That's what we are looking into. As a team we reached the top. Our challenge will be to see how we can stay there.
"How can we win the Tour even more often? To achieve that we need commitment from all our partners. We've got very strong partners behind us who are committed to make the next step. We want to grow even bigger than we are right now. We're looking into how we can do that, with all our partners."
"The current contract includes 2024 so we can go on without worries. There's no reason for panic. We're paving the way. We've got more partners apart from Jumbo but we hope — with the late Karel van Eerd on my mind — that we can keep on working together the way we're doing it now.
"Our team slogan is 'samen winnen' (winning together). We win with Jumbo. We created that slogan together with the late Karel van Eerd who sadly passed away in December. Building the team, shaping the long term plan is something we do together with our partners."
Jumbo's former chairman Karel van Eerd was a passionate sports fan, hence his company's huge investments into cycling and skating, among other deals.
Last year his son, Frits, who was then CEO of Jumbo was questioned as part of an ongoing Dutch investigation into money laundering over its motorsport sponsorships. He then resigned from his position at the firm.
The company published an investigation in its annual report that said "no criminal offences within Jumbo have emerged from this".
The Dutch supermarket chain is also facing a challenging economic situation at the moment, with threats to its market share in the Low Countries emerging.
Thank you for reading 20 articles this month* Join now for unlimited access
Enjoy your first month for just £1 / $1 / €1
*Read 5 free articles per month without a subscription
Join now for unlimited access
Try first month for just £1 / $1 / €1