Kenny beats Hoy again but is no match for Bauge in sprint final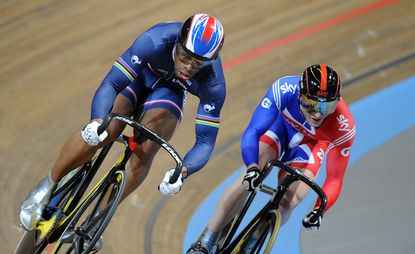 Jason Kenny beat Chris Hoy in the semi-finals of the sprint at the World Championships in Apeldoorn, but could not get the better of the imposing Frenchman Gregory Bauge in the final.
Bauge was extremely impressive in both races against the 23-year-old from Bolton, clinching his third sprint world title in a row after victories in Pruszkow and Copenhagen.
Earlier, Kenny had beaten Hoy 2-0 in the semi-final. Kenny continues to improve and certainly has the upper hand in his battles with Hoy at the moment. After beating the Olympic champion 2-0 at the National Championships last September, Kenny has followed up with successive 2-0 wins over Hoy - at last month's Manchester World Cup and again here.
But Bauge, the giant on a bike that looks as if it should be preventing cows escaping from a field, proved that being top dog in Britain is not quite enough at the moment.
Kenny admitted that riding against Hoy in the semi-final took it out of him but the question at the moment is how to get the better of Bauge, who can hold his top speed for so long and has the track craft and nous to get himself out of seemingly any predicament. Kenny has the acceleration and, crucially, he is on an upward trajectory, suggesting there may be more to come over the next year.
In the bronze medal race, Chris Hoy went behind against Mickael Bourgain but then got himself back in the hunt with a nail-biting win in the second.
And in the third, he came around the shoulder of the Frenchman with ease. The way he reacted to winning the bronze medal - with a clenched fist and a big wave to the crowd - had them on their feet.
If proof were needed (and it probably wasn't), it showed that Hoy is far from finished, even if he did celebrate his 35th birthday earlier this week, on the same day Jason Kenny turned 23.
Meanwhile, Victoria Pendleton will have to beat Australia's Anna Meares if she is to stay on course for her sixth women's sprint world title - and fifth in a row - after progressing smoothly to the semi-finals.
Although Pendleton qualified only sixth fastest, she saw off Viktoria Baranova, Rebecca James and Lyubov Shulika to set up a semi-final clash with Meares on Saturday.
The other semi-final will be between Olga Panarina, the Belarussian rider who won the 500-metre time trial on Wednesday, and Simona Krupeckaite of Lithuania.
The USA's Sarah Hammer saved the best for the last three laps in the final of the women's individual pursuit to overhaul New Zealand's Alison Shanks.
Shanks was up early and looked to be in control. But Hammer hit back to win her fourth pursuit world title. Vilija Sereikaite of Lithuania won bronze. There was no British rider involved in the competition.
The men's omnium got underway and after three events - the flying lap, points race and elimination - Bryan Coquard of France is leading Elia Viviani of Italy by three points.
The elimination race was particularly lively. There was some bumping early on and then, almost inevitably, there was a crash. Britain's Sam Harrison found himself squeezed and the Belgian rider Gijs Van Hoecke went down as they collided. The race was neutralised while Van Hoecke was checked and moved out of the way. Harrison had to change bikes, which meant he rode without a red light on his handlebars - the method commissaires use to notify the riders who was last over the line each sprint lap.
The crash, the confusion, the neutralised spell and the refusal of the Russian rider to acknowledge the red flashing light on his bars once again suggested that the event's inclusion in the Olympics is a controversy waiting to happen. Who wants an Olympic title decided by a race that can descend so readily into farce?
A 21-year-old Colombian, Avila Edwin Alcibiades thrilled the crowd with a gutsy display in the points race. Having won sprint seven, he then attacked to gain a lap on the field. For a while it looked as if he was struggling to regain his breath as he sat at the back of the bunch, unable to move up. But he rallied to pick up more points towards the end and pipped Cameron Meyer, the Australian who won last year's world title in such incredible, dominant style. The 2009 scratch race world champion, Morgan Kniesky of France, took the bronze medal.
It was a captivating scratch race, and a complete contrast to the earlier points race that was part of the omnium competition. At 120 laps, the omnium's points race was 10 kilometres shorter and so was run off at 52 kilometres an hour, two kilometres an hour faster than the stand-alone points race. However, the ebb and flow of the stand-alone points race eclipsed it in terms of excitement.
RESULTS
MEN'S SPRINT

Semi-finals
Gregory Bauge (France) beat Mickael Bourgain (France) 2-0
Jason Kenny (Great Britain) beat Chris Hoy (Great Britain) 2-0
Bronze medal final
Chris Hoy beat Mickael Bourgain 2-1
Gold medal final
Gregory Bauge beat Jason Kenny 2-0
MEN'S OMNIUM

Flying lap
1. Zachary Bell (Canada) 13.320sec
2. Bryan Coquard (France) 13.362sec
3. Alois Kankovsky (Czech Republic) 13.378sec
4. Shane Archbold (New Zealand) 13.457sec
5. Tim Veldt (Netherlands) 13.517sec
6. Sam Harrison (Great Britain) 13.612sec
Points race
1. Juan Arango Carvajal (Colombia) 36pts
2. Luis Mansilla (Chile) 35pts
3. Eloy Teruel Rovira (Spain) 34pts
4. Lasse Norman Hansen (Denmark) 33pts
5. Michael Freiberg (Australia) 32pts
19. Sam Harrison (Great Britain) 0pts
Elimination race
1. Bryan Cocquard (France)
2. Elia Viviani (Italy)
3. Luis Mansilla (Chile)
4. Shane Archbold (New Zealand)
5. Michael Freiberg (Australia)
7. Sam Harrison (Great Britain)


Overall standings, after three events
1. Bryan Coquard (France) 18pts
2. Elia Viviani (Italy) 21pts
3. Michael Frieberg (Australia) 22pts
4. Shane Archbold (New Zealand) 24pts
5. Eloy Teruel (Spain) 24pts
12. Sam Harrison (Great Britain) 32pts
WOMEN'S SPRINT

Qualifying round
1. Olga Panarina (Belarus) 11.120sec
2. Anna Meares (Australia) 11.120sec
3. Lyubov Shulika (Ukraine) 11.152sec
4. Shuang Guo (China) 11.188sec
5. Simona Krupeckaite (Lithuania) 11.291sec
6. Victoria Pendleton (Great Britain) 11.299sec
7. Rebecca James (Great Britain) 11.365sec
11. Jessica Varnish (Great Britain) 11.401sec
1/16 finals
Olga Panarina (Belarus) beat Eunmi Park (Korea)
Anna Meares (Australia) beat Won Gyeong Kim (Korea)
Lyubov Shulika (Ukraine) beat Gintare Gaivenyte (Lithuania)
Shuang Guo (China) beat Miriam Welte (Germany)
Simona Krupeckaite (Lithuania) beat Yvonne Hijgenaar (Netherlands)
Victoria Pendleton (Great Britain) beat Viktoria Baranova (Russia)
Rebecca James (Great Britain) beat Emily Rosemond (Australia)
Kaarle McCulloch (Australia) beat Wai Sze Lee (Hong Kong)
Kristina Vogel (Germany) beat Jinjie Gong (China)
Sandie Clair (France) beat Monique Sullivan (Canada)
Jessica Varnish (Great Britain) beat Lin Junghong (China)
Virginie Cueff (France) beat Lisandra Guerra Rodriguez (Cuba)
1/8 finals
Olga Panarina beat Virginie Cueff
Anna Meares beat Jessica Varnish
Lyubov Shulika beat Sandie Clair
Shuang Guo beat Kristina Vogel
Simona Krupeckaite beat Kaarle McCulloch
Victoria Pendleton beat Rebecca James
1/8 repechages
Kristina Vogel beat Rebecca James and Virginie Cueff
Sandie Clair beat Kaarle McCulloch and Jessica Varnish
Quarter-finals
Olga Panarina beat Sandie Clair 2-0
Anna Meares beat Kristina Vogel 2-0
Victoria Pendleton beat Lyubov Shulika 2-0
Simona Krupeckaite beat Shuang Guo 2-1
Semi-final line-up - scheduled for Saturday evening
Olga Panarina v Simona Krupeckaite
Anna Meares v Victoria Pendleton
WOMEN'S INDIVIDUAL PURSUIT

Gold medal final
Sarah Hammer (USA) 3-32.933 beat Alison Shanks (New Zealand) 3-33.229
Bronze medal final
Vilija Sereikaite (Lithuania) 3-37.643 beat Jaime Nielsen (New Zealand) 3-40.138
MEN'S POINTS RACE
1. Avila Edwin Alcibiades (Colombia) 33pts
2. Cameron Meyer (Australia) 25pts
3. Morgan Kneisky (France) 23pts
4. Alexander Khatuntsev (Russia) 20pts
5. Milan Kadlec (Czech Republic) 17pts
Thank you for reading 5 articles this month* Join now for unlimited access
Enjoy your first month for just £1 / $1 / €1
*Read 5 free articles per month without a subscription
Join now for unlimited access
Try first month for just £1 / $1 / €1
Founded in 1891, Cycling Weekly and its team of expert journalists brings cyclists in-depth reviews, extensive coverage of both professional and domestic racing, as well as fitness advice and 'brew a cuppa and put your feet up' features. Cycling Weekly serves its audience across a range of platforms, from good old-fashioned print to online journalism, and video.