Lance Armstrong leaves position on Livestrong board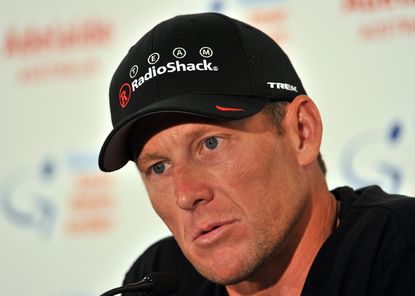 Lance Armstrong has split with the Livestrong cancer foundation he began 15 years ago after being found guilty of doping throughout his professional riding career. According to the Bloomberg news agency, his last day as a Livestrong board member was November 4, 18 days after he stepped down as chairman.
Armstrong essentially admitted guilt and that he doped his way to seven Tour de France victories when he refused to defend himself in the US Anti-Doping Agency (USADA) case. The Union Cycliste Internationale (UCI) officially stripped him of the wins on October 22.
He left his Livestrong chairman position on October 17 and yesterday it became public he quit the board entirely. According to Bloomberg, new chairman Jeff Garvey said it was "to spare the organisation any negative effects as a result of controversy surrounding his cycling career. We are deeply grateful to Lance for creating a cause that has served millions of cancer survivors and their families."
Armstrong has yet to comment on the USADA's decision. On October 10, the agency published its Reasoned Decision online and sent an expanded version to the UCI. Since then Armstrong's support system has crumbled. One by one, long-time sponsors abandoned the 41-year-old Texan: Nike, Giro Helmets, Anheuser-Busch, Trek, SRAM, FRS, RadioShack, Honey Stinger, 24-Hour Fitness and Johnson Health Tech.
Livestrong launched the yellow wrist band in 2004 ahead of Armstrong's sixth Tour win, with funds going to the foundation. According to some reports, those who still wear them have crossed out the v to form "Lie Strong".
Animated sitcom, South Park lampooned Armstrong and the wristbands in a recent episode (http://goo.gl/np9FG). "I can't believe we all got duped," character Eric Cartman said in the episode. "I feel like such a tool. Lying jerk."
Armstrong, despite the ill feelings, wrote on Twitter that he is "Hanging' in there" and posted a photo of him stretching upside down. Yesterday, he provoked the cycling world by posting "Back in Austin and just layin' around.." and a photo of himself on the couch underneath seven framed yellow jerseys he collected from 1999 to 2005 (http://goo.gl/jHSdU).
He is a "corporate psychopath," according to Australian expert on emotional intelligence, Chris Golis. The Australian newspaper interviewed Golis last month about Armstrong.
"Typically [corporate psychopaths] are manipulative, lack ethics, desire power and are very active players in corporate politics... Corporate psychopaths have a phenomenal desire to win or to make money and the two often go together, of course."
Armstrong may now face several, costly legal fights. SCA Promotions announced it is demanding the return of bonuses paid, estimated at £8.5m. A US whistle blower lawsuit Floyd Landis kicked off in 2010 may go ahead, which could potentially cost Armstrong and the US Postal management company, Tailwind Sports, £90m.
Related links
UCI accepts USADA ruling and strips Armstrong of Tour titles
Armstrong steps down as Livestrong chairman, Nike and Trek terminate contracts
USADA's Armstrong doping report in brief
USADA doping report repercussions continue
Thank you for reading 20 articles this month* Join now for unlimited access
Enjoy your first month for just £1 / $1 / €1
*Read 5 free articles per month without a subscription
Join now for unlimited access
Try first month for just £1 / $1 / €1