Lance Armstrong 'received lab help to beat EPO tests'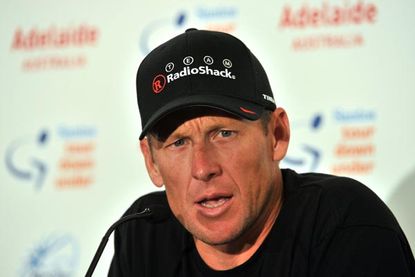 Lance Armstrong received help from cycling's governing body to beat drug tests, according to US Anti-Doping Agency CEO, Travis Tygart.
The UCI, said Tygart in a televised 60 Minutes interview, arranged a meeting in 2002 between a lab director and Armstrong to provide information about EPO testing.
"As far as we are aware," Tygart said on Wednesday, "it is totally inappropriate to bring an athlete who had a suspicious test and explain to them how the test works".
The UCI arranged a meeting with Armstrong, team manager Johan Bruyneel and Lausanne laboratory director, Martial Saugy. It came the year after Armstrong allegedly tested positive for EPO at the Tour of Switzerland.
"Saugy sat down next to me and said, 'Travis, in fact, there were samples from Lance Armstrong that indicated EPO use'," explained Tygart.
"He also told us that he had been ordered by the UCI to meet Lance Armstrong and Johan Bruyneel to explain the method of detecting EPO.
"And I asked him, 'Did you give Lance Armstrong and Johan Bruyneel the keys to defeat the EPO test?' And he nodded his head 'yes'."
Saugy admitted in the past to meeting Armstrong and Bruyneel about EPO testing. Overnight, Swiss Cycling President Richard Chassot defended Saugy and the Lausanne laboratory.
"In many cases, like the [Floyd] Landis affair, they haven't been afraid to put themselves in danger. Martial Saugy is a serious guy, who often has taken a strong position against doping," Chassot told Swiss newspaper, 20 Minutes.
"Regarding the samples tested, only numbers are on a tube. At the laboratory in Lausanne, they couldn't say to themselves 'This is Armstrong's sample, he can't be positive.' If something happened, it's at UCI level."
Also in 2002, Armstrong donated $125,000 to the UCI. The sports body said part of the money was used to support anti-doping in the junior ranks and around $100,000 was used to by a Sysmex testing machine.
"It has been stated or reported that Lance Armstrong said to his colleagues that the UCI sorted a [positive anti-doping] sample out for him," UCI President Pat McQuaid explained in September. "He may have said that, but you have to ask him why he said that. But there are no facts to back up that."
McQuaid said that the donation did not create a conflict of interest. He added, "If it were to happen today, we would treat it differently and state it differently".
Tygart revealed on Wednesday that Armstrong also tried to donate $250,000 [£155,000] to the US agency in 2004.
"I was stunned," Tygart said. "It was clear conflict of interest for USADA. We had no hesitation in rejecting that offer."
Related links
Lance Armstrong interview with Oprah Winfrey raises doubts
Bets taken on the words Lance Armstrong will use during TV interview
Lance Armstrong to talk to Oprah Winfrey about doping
Comment: Don't get too excited about an Armstrong confession
Is Lance Armstrong on the verge of doping confession?
Thank you for reading 20 articles this month* Join now for unlimited access
Enjoy your first month for just £1 / $1 / €1
*Read 5 free articles per month without a subscription
Join now for unlimited access
Try first month for just £1 / $1 / €1