272km, 45kmh: Chris Froome's astonishing 'Empty the Tank' training ride on Strava
Whatever riding you did this weekend has just been put in the shade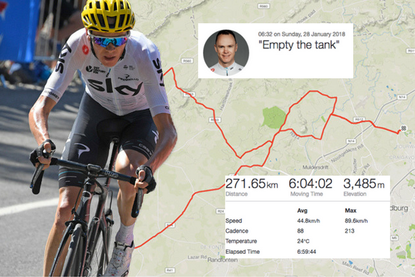 (Image credit: Sunada/Strava)
With spring on the horizon, now is the time that most of us think about up our mileage and speed on the weekend ride. However whatever you got up to on Sunday, we guarantee it won't have anything on this amazing ride that Chris Froome uploaded to Strava.
Having already racked up more than 4,000km since the start of the year, Froome headed out on Sunday for his biggest training ride since he returned to Strava in late December: a training ride longer than any race last year apart from Milan-San Remo.
Leaving his house just north of Johannesburg at 6.30am, Froome wouldn't return for another seven hours as he ticked off an astonishing 271.65km with only a couple of breaks during the ride.
Watch: Chris Froome's Pinarello Dogma F10
http://www.youtube.com/watch?v=ro3K6HyzHpU
What makes this ride even more amazing is Froome's average speed. Now, we're going to assume that most of this ride was motor-paced (and indeed the activity has now been flagged on Strava), but the Team Sky rider still managed an average speed of 44.8kmh, including a maximum speed of 89.3kmh on a fast, straight descent just a few kilometres from the end of his ride.
Unsurprisingly, Froome's effort was richly rewarded by other Strava users, with no fewer than 13,000 of them (at the time of writing) giving the 32-year-old kudos.
Despite having the spectre of an anti-doping investigation hanging over him, Froome doesn't seem to have lost any motivation with his training this year, not having had a complete day off the bike since December 30.
Since the start of 2018 he has covered more than 4,500km from his base in South Africa, riding for nearly 140 hours including a 33 hour week last week.
That meant that his latest ride came after two other days in the saddle which may have seemed rather long for most of us, but perhaps 171km and 136km rides at a little over 30kmh don't take quite as much out of your legs when you're a four-time Tour de France winner.
Thank you for reading 20 articles this month* Join now for unlimited access
Enjoy your first month for just £1 / $1 / €1
*Read 5 free articles per month without a subscription
Join now for unlimited access
Try first month for just £1 / $1 / €1