41-year-old US amateur gets four-year ban after taking 'natural testosterone' that was 'essential to her health'
Jennifer Schumm claimed testosterone was to treat long-term health problems, but still competed before receiving a TUE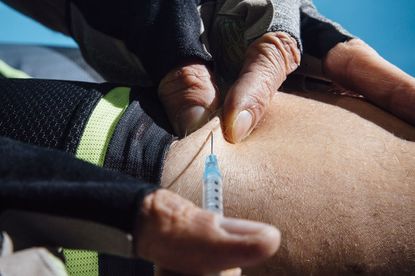 (Image credit: chris catchpole)
A 41-year-old amateur rider from the United States has received a four-year ban after an arbitration hearing dismissed her claim for a shorter sanction as the testosterone she was taking was "natural" and "essential to her health".
Jennifer Schumm, from Greenwood Village, Colorado, tested positive for the presence of an anabolic agent in a urine test collected at the 2016 Koppenberg Boulder Spring Classic, in which she finished sixth.
Schumm had been prescribed a bioidentical testosterone, which she described as natural, in order to treat "various medical ailments" which she had suffered from for a number of years. Doctors testifying for Schumm told an arbitration hearing that she took the testosterone for relief from her conditions and that "she also wanted to improve her muscle to fat ratio and energy".
>>> Cycling documentary which lifted the lid on the Russian doping scandal nominated for Oscar
Still wanting to compete in cycling events, Schumm was informed by her coach in 2016 that she would have to apply for a therapeutic use exemption for the testosterone, but proceeded to compete in the Koppenberg Boulder Spring Classic in May of that year before the TUE had been granted.
Appearing at a tribunal at the American Arbitration Association, Schumm argued that she should only receive a two-year ban as she was taking testosterone for health reasons and had no intention to cheat. She also said that any ban should not be made public as it would damage her career as a trainer.
However these arguments were rejected by the tribunal, which imposed the four-year sanction sought by the United States Anti-Doping Agency as Schumm was "unable to prove by a balance of probability that her violation was unintentional".
>>> Eight riders fail anti-doping tests during Vuelta a Colombia
It was also found that although Schumm was initially confused about whether the anti-doping rules applied to her and thought that because she was taking the testosterone for health reasons it would not be considered the same as taking testosterone to improve performance. However she realised before the Koppenberg Boulder Spring Classic that what she was doing was prohibited, and did not declare that she was taking testosterone on the Declaration of Use Form that she filled out when providing her sample.
Schumm's four-year suspension has been backdated to start on July 21, 2016, the date that she accepted her provisional suspension, meaning that she will be free to compete again in July 2020.
Thank you for reading 20 articles this month* Join now for unlimited access
Enjoy your first month for just £1 / $1 / €1
*Read 5 free articles per month without a subscription
Join now for unlimited access
Try first month for just £1 / $1 / €1