Adrien Costa was trapped for six hours under rock after climbing accident
The 21-year-old has revealed how he was severely injured while climbing in California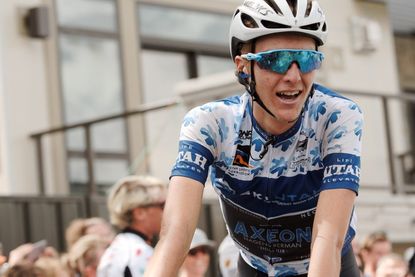 (Image credit: Davey Wilson)
Adrien Costa said he didn't know if he was going to die after climbing accident that crushed his leg.
The young American rider lost his leg after he was crushed by a rock while climbing in California in July.
Costa, who recently stepped away from cycling but had ridden for Axeon Hagens Berman, has explained how the accident happened, and how he had waited for six hours to be rescued.
The 21-year-old was visited by indoor training company Zwift, as part of the Climb for Costa fundraising drive.
In a video interview, Costa told Zwift: "As I was going up higher and higher and the trail slowly disappeared and became loose rock, I could feel something was off. I was stumbling a little bit.
"There were these huge rocks that were coming loose because they were trapped by the snow all winter.
"I stepped my left foot onto this rock, which was standing more or less vertically and I fell to my left, and somehow my left leg got free but my right leg was caught under it.
"It took a few seconds for it to sink in. I looked down and thought 'holy sh*t'.
"I panicked, threw off my backpack out of reach. Then I realised that was an issue too."
Costa, who stepped away from cycling in mid-2017, had been climbing the north ridge of Mount Conness in Mono County, California, when a two-tonne rock gave way and crushed his leg against a boulder.
He said: "From a basic, instinctual will to survive I began howling for help.
"Then I spent the next 30 or 45 minutes screaming for my life really.
"Thankfully there were a couple of climbers that I saw earlier.
"They stopped at a lake lower down for a dip and if they didn't stop they would have been gone."
One of the climbers had a GPS device with an SOS function, which allowed them to call for help but it was six hours before Costa was rescued.
It took around 15 people to free his trapped leg from under the rock.
Costa added: "I didn't really worry about losing my leg. I thought 'if I lose my leg that's totally fine, all I want is to get out from under this rock.'
"I wasn't sure if I was dying or not. There was one moment where I felt like I was in a video game and I was looking at the 'game over' screen."
He was finally rescued by military helicopter and transferred to hospital, where his leg was amputated days later.
Costa then underwent five further operations over the next 10 days.
Zwift are now giving athletes the chance to support Costa's recovery, amongst other worthy causes, as part of the 'Ride with Reason' campaign.
Costa has been back on his bike and climbing again less than three months after his leg was amputated.
Thank you for reading 5 articles this month* Join now for unlimited access
Enjoy your first month for just £1 / $1 / €1
*Read 5 free articles per month without a subscription
Join now for unlimited access
Try first month for just £1 / $1 / €1