'The jury is out on how it'll feel in the mountains': Aqua Blue Sport riders weigh in on 1X bikes
Irish team Aqua Blue Sport switched to SRAM's single-chainring drivetrain for 2018 – we asked them how they are getting along with it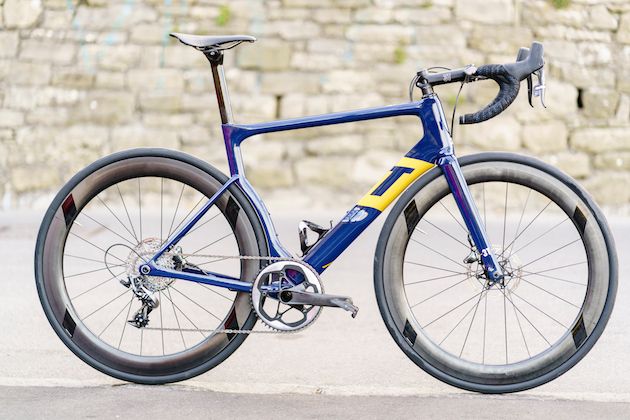 (Image credit: Marc Gasch)
Aqua Blue Sport's SRAM 1X equipped 3T bikes are "simpler" but the "jury is out" on how they'll perform in the mountains, according to riders on the team.
The Irish squad, now in its second year, is riding the 3T Strada bikes that are equipped with disc brakes and SRAM's 1X drivetrain. Although 1X drivetrains, which have only a single chainring, have become popular in mountain biking, Aqua Blue are the first team to race exclusively with them in the pro peloton.
The team racked up a stage win on the new bikes at the Herald Sun Tour last month.
The riders at the Dubai Tour were very positive about the change in gearing, with some of them running a cassette that contained a nine-tooth sprocket on the race's flat sprint stages.
>>> Aqua Blue Sport's new team bike unveiled for 2018, and it's only got one chainring
Aqua Blue rider Conor Dunne said: "I'm really liking it actually, it's something new so I was apprehensive to begin with but in training I've found it good. For these stages I've been riding a 54-9 and I've not noticed the jumps between the gears to be honest."
He added: "For sure if I was just a recreational cyclist I'd just get a 1X."
Dunne was confident the system could also cope with the wider range of gears required on more mountainous terrain than that found at the Dubai Tour.
"I ride in Nice so there is a lot of mountains and fast bits, the nine gives you the speed you need on the downhills. I didn't need to change cassettes once. If you're racing you have to think about it a bit more and change cassettes and rings a bit but we'd be doing that anyway," he said. "You just have to learn the language of the ratios."
Team-mate Andy Fenn, who spent all day in the break on stage one of the Dubai Tour, even striking out on his own towards the end, was a little more circumspect.
"Training on it is one thing racing is another. Dubai probably isn't the biggest test but yesterday worked out fine," he said. "It's more the races where we'd be using the little ring that'll be the test. The jury is out on how it'll feel in the mountains."
Fenn pointed out there were some advantages, beside the aerodynamic gains from losing the front mech, to only having a single front ring.
"It kind of seems weird and annoying to change the front mech now. I was out with a few guys training in Spain and they were dropping their chains and I was like 'OK.'"
https://youtu.be/-e8rxBKPcPI
It does create some work for the team's mechanics though. "We've got a tool box like a track box now with so many chainrings and sprockets," Fenn said.
Team mechanic Sam Elenes backed this up but said there were some other, more tangential, benefits too. "The derailleur itself does have to have a much stiffer spring and a clutch and it provides a really solid really stiff shift which the guys are happy with."
He added: "Its one of the only bikes to have been designed around a 28c tyre which is a big tyre. Everyone has always known that a 28c is faster but that it's not necessarily more aerodynamic so it's a trade off. When you have a wider wheel and frame optimized for a 28c tyre you negate that disadvantage."