Armitstead hopes to ride Tour de Yorkshire after 'brutal honesty' leads to full women's race
Having criticised the length of last year's women's race at the Tour de Yorkshire, Lizzie Armitstead says she has been involved in designing the 2016 stage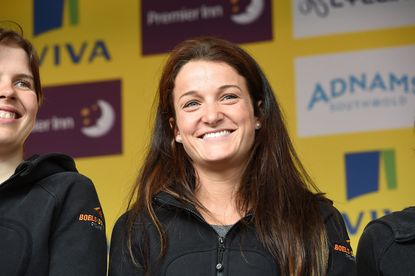 (Image credit: Andy Jones)
UCI world champion Lizzie Armitstead says she hopes to be part of the Tour de Yorkshire women's race, having criticised the 2015 edition.
With organisers Welcome to Yorkshire putting on a 60km circuit race in the inaugural edition of the event, Armitstead claimed it wasn't viable for her to return to her home county to participate in such a short race.
But in an interview with BBC Radio Leeds, Armitstead said her honesty led to her becoming involved in planning the 2016 race, which replicates the men's stage two - starting in Armitstead's home town of Otley.
"I was asked a lot, in every other interview, I was asked about the Tour de Yorkshire and why I didn't participate in the race that they had last season and I quite honestly said it wasn't worth me making the travel for, or being able to get out of my professional contract with my team in Europe to race a criterium," she said.
"So that brutal honesty has paid off and yes, they've listened and there's a full line 135 km stage now, so I'm very excited about it, it's nice that they've given us that opportunity."
Riders to watch in the new UCI Women's WorldTour
Armitstead's participation is not guaranteed, however, with her trade team Boels-Dolmans required to give her permission to race.
But the UCI women's World Cup champion hopes the increased interest in women's cycling will lead to the growth of both the Tour de Yorkshire and also the Aviva Women's Tour, which currently only visits counties in the east of England.
"It would be great if [the Women's Tour] was a fully-fledged tour in that it was a tour of the UK," she added. "As a Yorkshire girl I would be over the moon if it came and did some of the good climbs in Yorkshire but realistically, I don't know how possible it is.
"I don't know the ins and outs of the organisation, it all boils down to where the sponsors are, where the money is and the police force etc are available, it's not just as easy as just asking for it. There's a lot that goes into organising the race, so hopefully in the future it may happen."
Thank you for reading 20 articles this month* Join now for unlimited access
Enjoy your first month for just £1 / $1 / €1
*Read 5 free articles per month without a subscription
Join now for unlimited access
Try first month for just £1 / $1 / €1