Lizzie Armitstead expects Dutch challenge in World Championships road race
Without Marianne Vos the Dutch team will have nine potential winners in the World Championships road race in Richmond, Virginia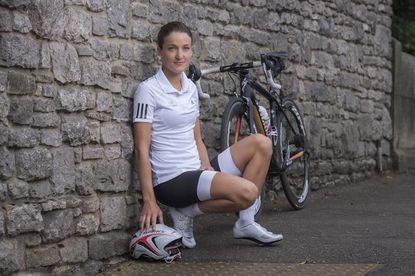 The Dutch will be the team to watch at September's World Championship road race in Richmond, according to Lizzie Armitstead, even though seven-time champion Marianne Vos will be absent.
Vos has written off her 2015 season after suffering several injuries over the winter and into the spring, preferring instead to concentrate on her recovery for 2016.
Armitstead believes that the Dutch team will be even more dangerous because the nine strong team will contain several potential winners.
"It'll be an interesting year for the Worlds without Marianne there because normally the Dutch team are almost neutralised by her presence," she told Cycling Weekly. "You know they'll always be working for her and they have such a strong team that there's now nine potential Dutch winners this year."
Armitstead was able to undertake a brief recce of the lumpy course in Richmond, Virginia, while in America for round six of the UCI Women's Road World Cup in Philadelphia - a race which she won.
"It was very independently done, with traffic and one-way streets," she said.
"It was messy but I got to see the main parts of the course and I like it. It's a good course – the tough part comes at the back end of each lap, which is good for me. I hope it's an aggressive race because that will suit me."
Her win in Philadelphia in June boosted Armitstead to the top of the World Cup leaderboard - a position that she solidified with an 11th-place finish in the Sparkassen Giro on August 2.
With three rounds left before the title will be decided at the end of August, including a team time trial in Sweden, the Brit is hoping to seal her second consecutive World Cup crown.
"We've got two rounds in Sweden but our chances have been dampened by the fact that Ellen van Dijk will be missing from the team time trial, so it'll be a case of damage limitations there.
"I didn't really expect to be in this position again in the World Cup, but now that I am, I'm going to try and hold on to it if I can.
"The [final round] GP Plouay-Bretagne has always been a goal. I see that as a standalone race and I'd like to win there as a preparation for the World Championships. It'll be a good test of form and I'd like to finish my season with my trade team on a high."
While Armitstead had the option to compete in the Holland Tour in the weeks between the end of the World Cup and World Championships, she's chosen instead to remain at her home in Monaco to hone her preparation and avoid last minute setbacks.
"Rather than going to the Holland Tour I decided to end my season after the World Cup," she said. "I don't tend to come out of stage races that well – I'm quite a fragile person – and I tend to pick up injuries and illness quite easily when I'm racing day in, day out.
"I like to be totally in control and spend the last two weeks before the Worlds at home. I did that in May – doing a month of training and I came out of it really well and I think that'll be a strategy that will be good for the Worlds."
Lizzie Armitstead is an ambassador for Cycleplan specialist cycling insurance. For tips on bike safety, security and to get a 20% discount on bike insurance visit www.cycleplan.co.uk
Find out how to warm up before you hit the bike
Thank you for reading 20 articles this month* Join now for unlimited access
Enjoy your first month for just £1 / $1 / €1
*Read 5 free articles per month without a subscription
Join now for unlimited access
Try first month for just £1 / $1 / €1