Marianne Vos scraps 2015 targets as injury woes continue
Former world champion Marianne Vos is still suffering from injury and has delayed her return to competition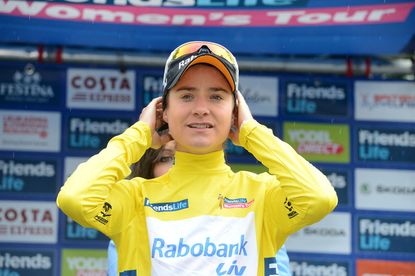 Marianne Vos has scrapped her targets for this season and will concentrate on recovery for the rest of the year. The three time road World Champion has been struggling with injury since the start of the year and this week announced she would prioritise her recovery.
The Dutch woman's woes first manifested themselves in at the Hoogerheide round of the cyclo-cross World Cup, where she finished in a lowly 12th place. Though she recovered sufficiently to take bronze at the World Championships two weeks later, she has barely competed since.
Then, her performance was hindered by a hamstring injury, which she nurtured through the Spring, returning to road racing at the Ronde van Gelderland on April 14. She finished sixth there, but just days later crashed whilst previewing the course at the Haiming mountain bike race in Austria. Despite one further road race in mid-May, it seems the cumulative affect of the injuries have taken their toll on the 28 year old.
>>> Marianne Vos breaks rib in mountain bike crash
The announcement on her Rabo-Liv team website stated, "Marianne does not yet feel fit enough to prepare thoroughly… In consultation with the management she decided the let go of the goals for this year and complete her recovery first."
The 28 year old later tweeted, "Not an easy decision to skip the upcoming races, but I need more training time to be race ready again. Her return to competition is yet to be specified."
Vos had intended to step back from the road slightly this season, instead racing mountain bike events to qualify for the Olympics in the discipline. Though she was not scheduled the defend her Aviva Women's Tour title this month, she was selected to represent the Netherlands in the road race at the European Games in Baku, Azerbaijan. The Dutch team will now ride without her.
In a separate development, Vos's team mate and current road and cyclo-cross World Champion, Pauline Ferrand-Prevot abandoned the MTB World Cup race at Albstadt in Germany last weekend. The French woman has been suffering with sciatica from a back injury and has been told to rest for 10 days.
Cycling Weekly understands that Ferrand-Prevot was intending to ride the Aviva Women's Tour, but that appearance must now be in jeopardy with the race starting in less than two weeks. Her participation at the Giro d'Italia Femminile next month, where she finished second behind Vos last year, is likely to go ahead.
Thank you for reading 20 articles this month* Join now for unlimited access
Enjoy your first month for just £1 / $1 / €1
*Read 5 free articles per month without a subscription
Join now for unlimited access
Try first month for just £1 / $1 / €1