Armitstead scores hat-trick at Tour de l'Ardeche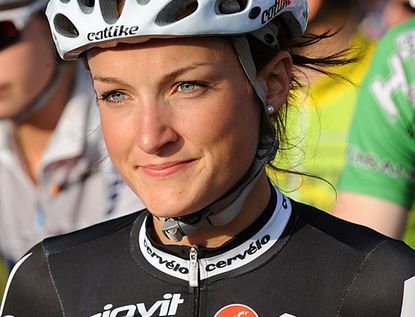 Britain's Lizzie Armitstead continued her dominant performance in the Tour Cycliste Feminin International de l'Ardeche 2010 in France on Friday by winning her third consecutive stage.
Armitstead won the bunch sprint at the end of the race's penultimate stage in Villeneuve de Berg after 119.7km of racing, beating Grace Verbeke (Lotto) into second and Andrea Graus (Austria) in third.
Vicki Whitelaw (Lotto) still leads overall by just four seconds over Britain's Sharon Laws (Cervelo).
"Again today it was a really strong team performance. We did some attacks during the race to bring Sharon in the best position but we were not able to drop Whitelaw," Armitstead commented after the win.
"In the final we tried again to get Sharon in the best position and to bring her in the right break away but we couldn't make a gap so I made the sprint with quite a big bunch. I just gave it full gas and was able to pass the line first. This is a new thing to win three times in a row."
The final stage of the 2010 Tour de l'Ardeche takes place on Saturday (September 11).
Tour de l'Ardeche 2010: Related links
Stage four: Armitstead scores second stage win
Stage two and three: Armitstead wins stage three
Stage one: Laws wins opening stage of Tour de l'Ardeche
Thank you for reading 10 articles this month* Join now for unlimited access
Enjoy your first month for just £1 / $1 / €1
*Read 5 free articles per month without a subscription
Join now for unlimited access
Try first month for just £1 / $1 / €1