Armstrong and Astana train for Tour of California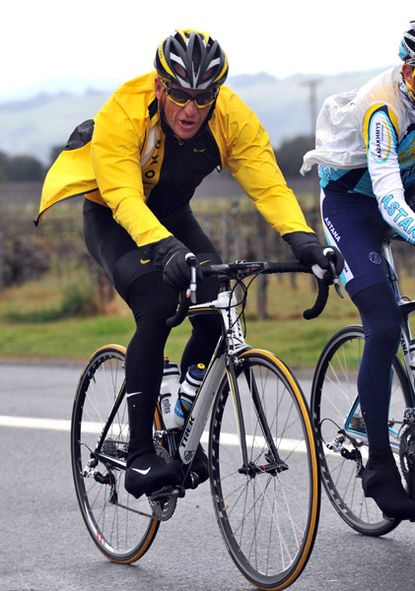 Lance Armstrong and the Astana team are currently in Santa Rosa on a training camp ahead of this month's Tour of California.
Wrapped up against weather that looked like it belonged more to Britain that the vineyards of California, seven-times Tour de France winner Armstrong and his team-mates went on a training run devised by the squad's local resident Levi Leipheimer.
The nine-day Tour of California starts on February 14, with an opening prologue in Sacramento.
Leipheimer is the defending champion, but his presence at the race will undoubtedly be over-shadowed in the media by Armstrong. It will, after all, be Armstrong's first professional road race on US soil since announcing his comeback from retirement. He made his international post-retirement debut at the Tour Down Under in January.
Although not riding the Tour of California, 2007 Tour de France and 2008 Giro d'Italia and Vuelta a Espana champion Alberto Contador was also there joining in the team rides.
Armstrong wore his black and yellow LiveStrong kit, rather than Astana team clothing. The Texan seems to ride in his LiveStrong strip when training, keeping Astana colours for race day.
Astana are one of 17 teams lined up for the Tour of California. Astana's line-up for the race is provisionally: Lance Armstrong, Levi Leipheimer, Janez Brajkovic, Chris Horner, Steve Morabito, Yaroslav Popvych, Jose Rubiera and Michael Schar.
Cycling Weekly will be covering the Tour of California in full online and in the magazine. Watch out for our race preview coming soon.
Lance gets ready to ride
Armstrong and local man Levi Leipheimer (right)
It's not all about Lance: triple grand tour champion Alberto Contador saddles up
Isn't is supposed to be sunny in California?
RELATED LINKS
Tour of California teams announced
Armstrong Down Under: Job done
LANCE ARMSTRONG LINKS
Watch Armstrong make his comeback (video)
Contador says Armstrong will take the pressure off him
Armstrong in Adelaide... and Astana kit
Armstrong to get elite security team for Tour Down Under
Armstrong to ride Tour of Ireland?
Lance Armstrong press conference transcript
Lance Armstrong: Exclusive interview
Armstrong trains with Contador for first time
Armstrong to ride 2009 Tour de France
Armstrong: still no drug-testing program
Armsrong visits Paris but doesn't want to talk about Tour de France
Armstrong speaks to Cycle Sport
Armstrong vs Hincapie at Tour Down Under
Armstrong to meet Tour officials before deciding on participation
Armstrong still playing it cool over Tour
Armstrong says he could not have hoped for a different Tour
Contador to stay with Astana and Armstrong
Lance Armstrong's Tour de France comeback in doubt
Armstrong to ride the 2009 Giro d'Italia
Armstrong rejects offer to re-test 1999 samples
Armstrong knew about six month rule
French offer Armstrong re-test of his 1999 Tour samples
Amrstrong hopes UCI show 'common sense' for Aussie return
Armstrong comeback in Tour Down Under faces possible delays
Watch Armstrong in Vegas 'Cross race
Armstrong confirms Ventoux time trial for 2009?
Armstrong's comeback starts in Australia
Wednesday Comment (September 24)
Contador says riding with Lance could be difficult
UCI president rubbishes Armstrong Tour buyout claims
Bruyneel talks up Armstrong's chances
The Wednesday Comment, Armstrong Edition (September 10)
Tour de France: Lance can race in 2009
Contador: Lance could win eighth Tour
Lance confirms 2009 comeback
Armstrong: No smoke without fire?
Thank you for reading 20 articles this month* Join now for unlimited access
Enjoy your first month for just £1 / $1 / €1
*Read 5 free articles per month without a subscription
Join now for unlimited access
Try first month for just £1 / $1 / €1