Armstrong confirms he will ride the 2010 Tour of California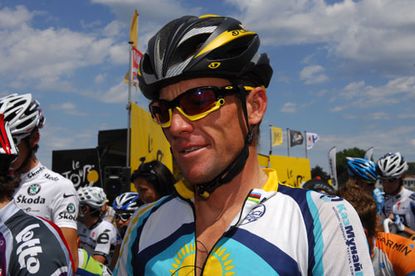 Lance Armstrong has confirmed that he will ride the 2010 Tour of California next May, as high-profile US riders and the Governor of the State of California Arnold Schwarzenegger revealed details of the race via Twitter.
"I've decided to ride the #Amgen Tour of California in 2010. Can't wait," Armstrong said, triggering off other announcements from three-time winner Levi Leipheimer, George Hincapie and Dave Zabriskie. They all confirmed they will ride and hinted about different stages.
The event website also showed a map of the 2010 race which has moved from the usual February date to May 16-23. Unfortunately clicking on the map only unveiled the 2009 race route, with no stage distances available.
The eight-day race begins in Nevada City and heads to the California state capital Sacramento. The race then heads south via Santa Rosa, San Francisco and San Jose in the heart of Silicon Valley.
Other stages will be around the Los Angeles area with a key time trial on the Saturday in downtown Los Angeles. The race ends on Sunday May 23 with a circuit stage around the home town of EPO-making sponsor Amgen in Thousand Oaks.
The toughest stage is likely to be from Pasadena to the mountain resort of Big Bear Lake at an altitude of over 2000 metres.
This year the race clashes with the Giro d'Italia but Lance Armstrong's confirmation strikes a first blow for the US race organized by media giant AEG.
The Giro d'Italia route will be presented in Milan on Saturday.


2010 Tour of California:
Stage 1: Sunday, May 16 - Nevada City to Sacramento
Stage 2: Monday, May 17 - Davis to Santa Rosa
Stage 3: Tuesday, May 18 - San Francisco to Santa Cruz
Stage 4: Wednesday, May 19 - San Jose to Modesto
Stage 5: Thursday, May 20 - Visalia to Bakersfield
Stage 6: Friday, May 21 - Pasadena to Big Bear Lake
Stage 7: Saturday, May 22 - Los Angeles (TT)
Stage 8: Sunday, May 23 - Thousand Oaks/Westlake Village/Agoura Hills.
Thank you for reading 20 articles this month* Join now for unlimited access
Enjoy your first month for just £1 / $1 / €1
*Read 5 free articles per month without a subscription
Join now for unlimited access
Try first month for just £1 / $1 / €1