ARMSTRONG REJECTS OFFER TO RE-TEST 1999 TOUR DE FRANCE SAMPLES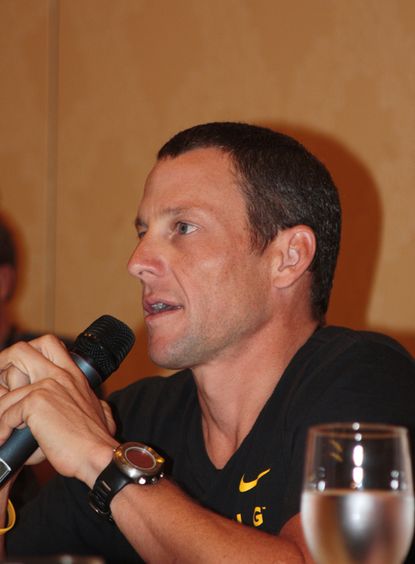 Get The Leadout Newsletter
The latest race content, interviews, features, reviews and expert buying guides, direct to your inbox!
Thank you for signing up to The Pick. You will receive a verification email shortly.
There was a problem. Please refresh the page and try again.
Lance Armstrong has rejected the offer by the head of the French Anti-doping agency, Pierre Bordry, to retest his urine samples from the 1999 Tour de France.
Bordry yesterday offered to retest the samples according to L?Equipe newspaper as of a way to prove Armstrong?s good faith and dispel accusations made by the L'Equipe newspaper that the samples may contain traces of the banned blood booster EPO.
In a written statement, Armstrong sidestepped the offer by claiming that an independent investigation instigated by the UCI had said the 1999 samples ?have not been maintained properly, have been compromised in many ways, and even three years ago could not be tested to provide any meaningful results.?
?There is simply nothing that I can agree to that would provide any relevant evidence about 1999,? Armstrong added in his statement.
Armstrong also pointed out that the ?the Independent Investigation concluded that the French laboratory, the French Ministry of Sport, and Dick Pound, the former head of the World Anti-Doping Agency, all behaved improperly with respect to the 1999 Tour de France samples.?
He says that WADA and the French Ministry refused to address the finding of the investigation by refusing to have the issues heard by the Court of Arbitration for Sport.
?If Mr. Bordry would now like to re-examine the past, he must start with presenting the issues of the misconduct of the French laboratory, the French Ministry, and WADA before a proper tribunal.? Armstrong said in the statement.
The seven-time Tour de France winner also reminded everyone that he has agreed to work with anti-doping expert Dr Don Catlin for his comeback to racing, to develop a blood and urine testing protocol. Armstrong said that his results will be posted on the internet and that the testing protocol will be available to other riders.
RELATED LINKS
Armstrong knew about six month rule
French offer Armstrong re-test of his 1999 Tour samples
Amrstrong hopes UCI show 'common sense' for Aussie return
Armstrong comeback in Tour Down Under faces possible delays
Watch Armstrong in Vegas 'Cross race
Armstrong confirms Ventoux time trial for 2009?
Armstrong's comeback starts in Australia
Wednesday Comment (September 24)
Contador says riding with Lance could be difficult
UCI president rubbishes Armstrong Tour buyout claims
Bruyneel talks up Armstrong's chances
The Wednesday Comment, Armstrong Edition (September 10)
Tour de France: Lance can race in 2009
Contador: Lance could win eighth Tour
Lance confirms 2009 comeback
Armstrong: No smoke without fire?
Thank you for reading 20 articles this month* Join now for unlimited access
Enjoy your first month for just £1 / $1 / €1
*Read 5 free articles per month without a subscription
Join now for unlimited access
Try first month for just £1 / $1 / €1