Armstrong to have surgery on broken collarbone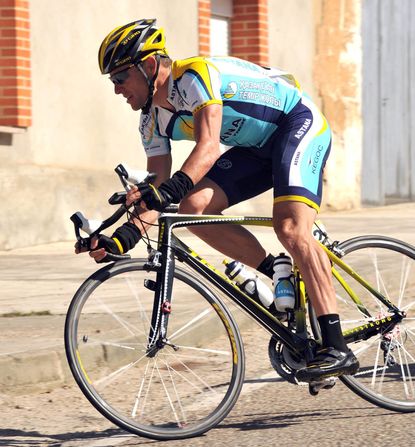 Lance Armstrong has confirmed that he is to have surgery on his broken collarbone within the next few days.
The seven-times Tour de France winner broke his collarbone after crashing heavily in a ditch during the first stage of the Castilla y Leon in Spain. He could be seen on television coverage clutching his right arm and shoulder before being taken away in an ambulance.
According to messages left by the Texan on his Twitter site, he will stop off in New York briefly before returning home to Austin. Armstrong also posted a photo of himself sat in a Spanish airport looking cheerful with his arm in a sling (below).
Although surgery isn't necessary for a collarbone break, it can speed up the healing process. In one procedure, surgeons insert a titanium rod into the broken bone to help it knit back together.
It is likely that Armstrong will continue to train using rollers and gym equipment before tentatively returning to riding when his doctors advise him to do so. With the right treatment and rehabilitation - and with no further complications - Armstrong's preparations for May's Giro d'Italia and July's Tour de France could suffer only minor interruption.
RELATED LINKS
Armstrong confirms broken right collarbone in Spanish crash
Thank you for reading 5 articles this month* Join now for unlimited access
Enjoy your first month for just £1 / $1 / €1
*Read 5 free articles per month without a subscription
Join now for unlimited access
Try first month for just £1 / $1 / €1