Astana riders 'continuing as normal' despite team's financial concerns
Astana team manager Alexandre Vinokourov told Kazakh media that the squad has yet to receive funding for 2018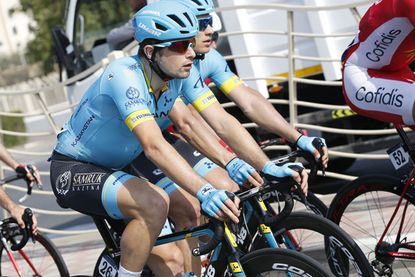 (Image credit: Yuzuru Sunada)
Team Astana's riders and staff in the Abu Dhabi Tour this week say that they are being paid despite general manager Alexandre Vinokourov warning that funding has yet to arrive for 2018.
The team is running on cash reserves, said Vinokourov, in an interview with local Kazakh media.
"What I've heard is that is there some delay in the funding, but the team is going on as normal, as you can see," Sports Director Dmitri Sedoun told Cycling Weekly.
"In fact, we've had a good start to the season with Lopez and the Tour of Oman overall with Lutsenko. Everything's going well, in the best way right now. Let's hope it continues that way."
>>> Alexey Lutsenko wins 2018 Tour of Oman
He explained that "until now" he is being paid by Astana, a group of businesses Vinokourov combined to fund the team over the past decade.
"I think that we aren't going to have a new sponsor," added Sedoun. "I hope that Astana will continue, I hope for many years."
"We go on the races with our savings, the guys have not received their salaries," Vinokourov told Vesti.
http://www.youtube.com/watch?v=aGC6TGs1Ps0
"The situation is critical. There are 30 riders under contract, we have obligations towards them. It's more than 50 people if we add the staff that includes coaches, masseurs, doctors, mechanics..."
Sedoun confirmed the team is running on its savings and that it needs new money to come in.
Vinokourov travelled to the Middle East, where Miguel Angel López won the mountain stage and team-mate Alexey Lutsenko the race overall.
>>> Abu Dhabi Tour 2018: Latest news, reports and race info
One team rider said that an email was sent explaining the situation on Friday night.
"We didn't know anything in Oman, but I think that this is something that will pass," López told Cycling Weekly.
"You hear it, you think about it, but we are confident and calm. I'm calm. Let's remain calm that all will go OK."
Jesper Hansen and López both said that they are being paid.
Thank you for reading 20 articles this month* Join now for unlimited access
Enjoy your first month for just £1 / $1 / €1
*Read 5 free articles per month without a subscription
Join now for unlimited access
Try first month for just £1 / $1 / €1