Australian city trials speed bumps to slow cyclists down on shared paths
Trial of speed bumps in Perth has a few teething problems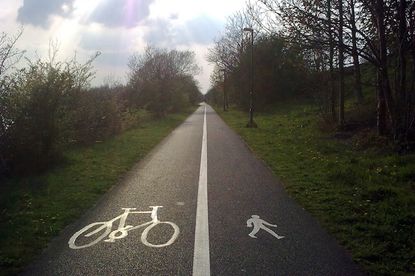 (Image credit: Suloke Mathai/Flickr)
Cyclists in the Australian city of Perth will soon have to face special speed bumps designed to slow them down on shared-use paths.
Craig Wooldridge, the acting executive director of the city's Director of Transport, said that the rising levels of cycling in the city had led to conflict between cyclists and pedestrians.
>>> Cycling now the most popular form of rush hour transport on London streets, report shows
"We know from speaking to the people who are out there walking on the paths with people who cycle, there are concerns about safety," Wooldridge told the West Australian.
The city's authorities are currently running a A$50,000 (£28,000) trial in the southern Perth suburb of Leeming, but the current designs have not been without their problems, with some of them being too steep and too close together for mobility scooters and causing instability for bikes towing trailers.
Watch: Five commuting tips
http://www.youtube.com/watch?v=NxMF_YFVFaA
"One of my staff was towing his kid in the back of one of those kids' trailers, he had a bit of instability in the back there. The kid loved the ride and wanted to go again, but not really what we want out on the path there," Wooldridge continued.
"Some mobility scooters did bottom out and some of them became a little bit unstable, so we've now gone back and in the coming weeks we'll be going back with a new trial."
Once the trials are complete, city authorities plan to roll the speed bumps, which are shaped like a 'W', out to three further locations in the centre of the city.
>>> Australian road safety ads pulled after portraying cycling in negative light
The scheme has the support of cycling campaign group WestCycle, although chief executive Matt Fulton also said that Australia needed to consider building separate facilities for cyclists and pedestrians in busy areas.
"We constantly tell the cycling community that we expect to give pedestrians the same respect that want motorists to give us," Futlon told the ABC.
"It's a good idea that we all slow down and ride to the conditions."
Thank you for reading 20 articles this month* Join now for unlimited access
Enjoy your first month for just £1 / $1 / €1
*Read 5 free articles per month without a subscription
Join now for unlimited access
Try first month for just £1 / $1 / €1