Basso, like Wiggins, building slowly to Tour de France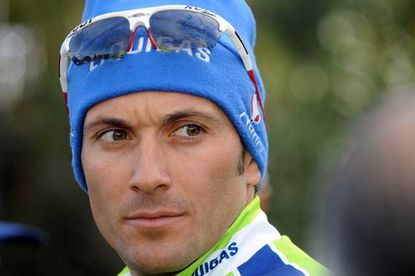 Italian Ivan Basso, like rival Bradley Wiggins, is building slowly towards this year's Tour de France, but was impressed nonetheless by Alberto Contador's victory at Volta ao Algarve in Portugal this weekend.
"Contador is good, but it is not as if he is in form now," Team Liquigas-Doimo's Basso told Cycling Weekly. "Being 'good' for him is enough to win."
Basso differentiated his and Wiggins' style from two-time Tour de France winner Contador (Astana), who won his first race of the season. Or Alejandro Valverde (Caisse d'Epargne), who won the Tour Méditerranéen earlier this month.
"It depends on the rider's characteristics. There are some that are fast and others are not so fast," continued Basso, making a comparison to Wiggins (Sky) and Lance Armstrong (RadioShack). "I am not so fast, I have to drop everyone to win."
Basso plans to start challenging for race wins at the Tour of Catalonia, March 22 to 28. Wiggins will start his second race of the season next week, the Vuelta Murcia, where he said that he plans to have a go at the overall classification.
Sky will field a different team this weekend in Switzerland in two back-to-back one-day races: GP Insubria and GP Lugano. They will be Basso's first races of the season and a chance for him to see the new British team up close.
"The staff and riders have their own philosophy and characteristics, which are appreciated worldwide and acknowledged as one of the best teams," Basso said. "Certainly, it is a team who has added something extra to cycling.
"Sky has its identity, but Liquigas doesn't need to be envious. We have optimum riders and optimum staff. Our team provides for training camps and physiotherapists. I feel good in my team.
"The biggest thing is to have a transparent and credible team."
Basso just completed a two-week block of altitude training in Tenerife, Spain, with team-mates Vincenzo Nibali, Roman Kreuziger and Sylvester Szmyd. There the team allowed for journalists to live and train with the riders to give greater transparency. Basso said that about ten journalists made the trip.
Liquigas signed Basso in 2008 after he spent two years out of the sport for being involved in the Operacion Puerto doping investigation.
Related links
Contador starts season with a bang ahead of Wiggins-Tour battle
Cavendish and Wiggins battle through rainstorms in Andalusia
Contador wins Tour of the Algarve
Bradley Wiggins: Rider Profile
Ivan Basso: Rider Profile
Thank you for reading 20 articles this month* Join now for unlimited access
Enjoy your first month for just £1 / $1 / €1
*Read 5 free articles per month without a subscription
Join now for unlimited access
Try first month for just £1 / $1 / €1