Behind the lens at Paris-Nice: stage four - Sky emerge victorious
Cycling Active's Luke Evans gives us the inside story on following the race to the sun from the driving seat of a photographer's motorbike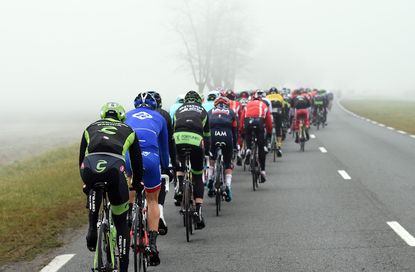 (Image credit: Watson)
Thursday March 12, Croix de Chaubouret
The 'meteo' weather forecast on TV predicted a sunny day with temperatures in the high teens.
We awoke to freezing fog outside our Ibis hotel and a short but hand numbingly cold ride to the start of stage four.
They were right about the sunshine though. Once the fog dispersed we had fabulous blue skies all day, not a cloud in sight, just a haziness to distant mountains iced with snow. There was a freshness to the air all day though. It never felt warm.
The local paper for the Vichy region is called La Montagne and that says it all. In fact this region between the Puy de Dome and Rhone is rugged and hilly, not seriously mountainous.
But it's fantastic for cycling with sinuous climbs of a few kilometres that any bike rider would enjoy.
On the motorbike today was the first day of big lean cornering on the many descents. Normally it's fun but the blacktop was polished like marble and hard to see in the sunlight. Grip seemed ok but I'm glad it wasn't damp and the cyclists probably were too.
We've left behind the remote and mysterious central part of France and from now on there will be more freshly painted villas with terracotta roofs and a general air of prosperity as we head south and east.
On the final 10km Croix de Chaubouret climb just about all ten or so motos and photographers were lined up ahead of the race waiting their turn to go back for pictures. You can only work one at a time when instructed to by the regulator on another moto.
It takes long minutes for your turn to come around in the rotation and we had about five goes before zooming ahead to 300 metres to go where Graham got off and shot the race on foot.
I get to be a fan at that point and it was great to see the two Sky riders giving it the max to stay clear of the impressive Kwiatkowski in his rainbow jersey.
Wednesday, March 11 - Saint-Pourcain to Sur-Sioule
Before the TV bikes start filming, which is about halfway through the stage, there can be some interesting tactical moves.
This morning we saw Philippe Gilbert eventually go up the road after one of the most sedate starts to a stage I have ever seen.
Normally the main break of the day comes together after a high speed start when the bunch can easily be doing 40mph. It's fast because there are too many riders and teams who want in, but only about half a dozen ever make the cut.
Not so today. Gilbert, shadowed by the inevitable French pro, just cruised clear and quickly had a gap of a couple of minutes.
Then it got interesting as we heard over the speaker attached to the bars of the bike that Sir Bradley Wiggins had clipped off on his own and was chasing.
Passing the bunch and closing on Sir Brad we hoped to get a shot of him motoring across to the two upfront.
Just as we got into position about ten metres ahead, Brad put his hands on the tops of the bars. His deadpan expression said it all. He had, for whatever reason, decided or been told through his earpiece that this was not the day for a long breakaway move.
Two Trek riders, Jungels and Steegmans, did exactly the same thing shortly after. They took off from the bunch and then just sat up and sank back to its clutches.
While Graham edits his photos every afternoon for at least two hours in the press room the drivers loaf around like bored chauffeurs.
Sitting in on the press conference with stage winner and new race leader Michael Matthews we heard him say how stressful previous editions of this race have been and how confusing it's been this year, with so little hard riding.
You can almost feel the stored up energy after three days of no more than quality training. Tomorrow's summit finish on the Col de Chaubouret must surely pop the cork on this shaken bottle of a Paris-Nice.
Tuesday, March 10 - Saint-Amand-Montrond
After a lacklustre first stage at Paris-Nice there was every expectation of some action as the race headed even deeper into the remote centre of France.
Parked up for a photo the knocking of a woodpecker was briefly rent by a chainsaw letting rip with a faint echo in the woods beyond.
Nature and working the land. There's little else in the departments of Loire et Cher and Indre.
It's not chocolate box pretty this region but there is a wild beauty to the place and if you like being alone check out the house prices. You will be tempted. I saw a perfectly habitable looking little bungalow in an estate agents window this morning for 75,000 euros.
Did I mention action? Forget it. It rained a bit in the morning and the bunch let the solo break stretch out the minutes.
They rode along as they often do in clumps of their own teams, chatting away.
Could there be grumbling about the depressing report from the UCI yesterday? Maybe. It's not often you get days like this without even a half credible breakaway move.
Still the doughty French came out to stoically clap the race by. Some had their slippers on and one lady had on a pair of grubby pale blue crocs which she won't thank me for noticing.
It's funny what catches your eye on the motorcycle.
I see all the dogs. Most of them look unimpressed, ears back, shaking. One lady today held up her little fat terrier above the barriers, his tummy standing proud above splayed legs.
That's pretty much how the dog version of me would look like on the moto.
Monday, March 9 - Maurepas
You don't have to go far from Paris to find yourself in farming country where narrow roads stretch far into the distance.
Bimbling along on a motorbike behind the bunch there's little to see apart from wind turbines, their blades stilled on a windless grey Monday in March.
It was colder than expected in the morning as the race set off on stage one of Paris-Nice heading 196.5km almost due south from SW Paris, and apart from a small climb at the start of the stage the terrain was never more than gently rolling.
Many riders, including Geraint Thomas, went back to their team cars for legwarmers. The pace was so desultory there was time to stop and hop about putting them on.
One rider broke away early doors but finding himself alone and completely exposed he quite sensibly stopped pedalling, sat up, took a drink or two and returned to the peloton.
Only a serial escaper like Thomas Voeckler could make something from the day. Sure enough he and another French rider gave the flat capped and buttoned up cardy wearing folk standing in the dusty villages something to cheer.
Mud is what you notice on these early spring stages. It's in the massive ploughed fields, yet to produce green shoots. It's in the verges, sometimes claggy or heavily imprinted with tractor tyres.
On the road itself we bump over patties of dried mud. The cyclists and team cars throw up plenty of muddy dust too. We look like miners coming off shift in the press room: that's how you can tell the moto photographers and their drivers at a big cycle race.
Luke Evans is photographer Graham Watson's motorcycle driver at this year's Paris-Nice
Thank you for reading 20 articles this month* Join now for unlimited access
Enjoy your first month for just £1 / $1 / €1
*Read 5 free articles per month without a subscription
Join now for unlimited access
Try first month for just £1 / $1 / €1