BELGIANS OUT IN FORCE AT PARIS-NICE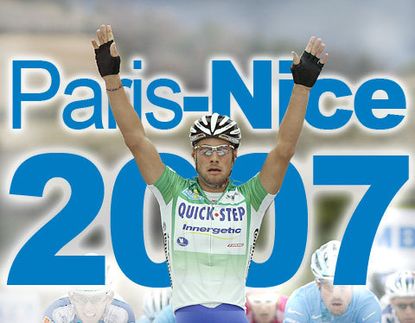 Dig beneath the surface of any bike race in Western Europe, and you?ll find a Flemish bike fan. Even at Paris-Nice.
On the one big climb of stage three of the race from Limoges to Maurs - the Cote de Fangas, deep in the Massif Centrale - what caught CW?s eye was a Belgian camping car with a ?Tom Boonen?s fan-club? poster plastered across the wind-screen. As for the French? Barring the odd Breton flag (and they?re almost as crazy about cycling as the Belgians) along the last 80 kilometres of the route they were barely in sight.
True, the starts and finishes this year are packed with French fans - so much so that the headline in one local paper on Tuesday read, somewhat ambiguously, ?Buzancais [the stage one finish] set alight by Paris-Nice.? (Hopefully the fires are all out by now).
But in general the crowds are down on previous years. At the hot spot sprint at Sousceyrac, for example, an hour before the race came through, a grand total of one elderly man on a bench had come out to spectate. (And he was asleep).
Yes, the David Moncoutie fan club (he?s not racing, but he comes from the region) did have their banner proudly in place as Paris-Nice wended its way alongside the Dordogne. But underneath it, sadly, just one David Moncoutie supporter had bothered to turn up.
Perhaps it?s the radically different race route. Paris-Nice has never been to Limoges before, for example, and it?s rare that it?s so far west of its usual haunts. Or perhaps it?s because ?Dordogneshire? has been bought up by so many foreigners they haven?t realised Paris-Nice
was actually happening.
In any case nobody?s complaining that St. Etienne (so frequently visited in the race that it used to be called Paris-St.Etienne-Nice) is off the route for once. Formerly France?s number one city for bike manufacturers, amongst Paris-Nice race followers it?s now more famous for its grimy industrial buildings, its crazy one-way system, its lousy hotels, and last but not least, it?s not-overly friendly policemen. (One former CW journalist, who shall remain nameless, was once arrested near there for insolently refusing to reverse off a sliproad and back into a motorway heaving with traffic. After being invited to step inside a police van for an hour or so, he was released - eventually.)
But even if the French are noteable by their absence on stage three the area is rich in local history.
60 kilometres from the stage finish, in the wild uplands of the Massif Central, the peloton rode past a simple black marble monument to the French local resistance in the Second World War. A plaque described how the maquis had laid a kilometre-long electric cable (and hidden it from the Nazis for over a year) to provide the power for a radio beacon. Their operations were so successful that over 60 agents and large quantities of arms were landed in the area by the Allies.
Thursday?s stage heads through even more desolate terrain en route to a mountain top finish in Mende. But even if the French can?t make it, keep your eyes out for the Tom Boonen supporters - they?re sure to be back.
Thank you for reading 20 articles this month* Join now for unlimited access
Enjoy your first month for just £1 / $1 / €1
*Read 5 free articles per month without a subscription
Join now for unlimited access
Try first month for just £1 / $1 / €1